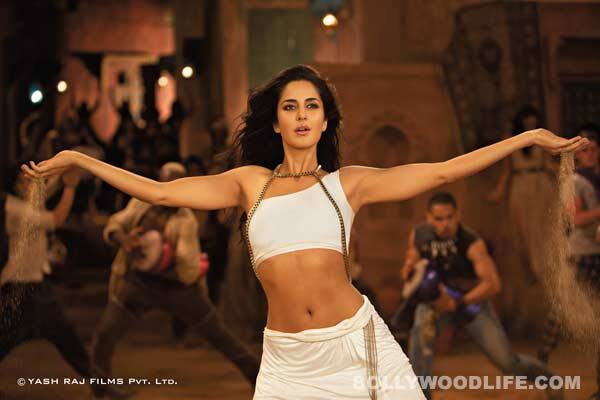 Katrina reveals that her Ek Tha Tiger co-star gets bored with mush quite easily
We met Katrina Kaif at the Yash Raj Films' rehearsal hall, and after a long day of answering questions, the babe looked quite tired. Nevertheless, she enthusiastically answered all our queries and happily posed for photographs with all those who requested her for one. Kat spoke candidly about her equation with Salman Khan, her initial fears of playing Shahrukh Khan's leading lady and doing women-centric films like her peers Kareena Kapoor, Priyanka Chopra and Vidya Balan.
Salman told us that you had recommended his name to director Kabir Khan for the role of Tiger?
Oh, he told you that? Nonsense. (Smiles goofily) It was Salman who had asked me to do Kabir Khan's New York. I wasn't really gung ho about doing it. But after doing that film with Kabir, he has become one of my closest friends. I drop in at his home to catch up with him. Sometimes I visit him on festivals. I don't remember exactly when he narrated the story of Ek Tha Tiger to me, but I had instantly said 'yes' to the role.
Once Kabir had asked me, if he should approach Salman for the role of Tiger? I told him, he definitely should. I assured him that if Salman likes the script he will immediately agree. If not, he will say 'no'. He will definitely not keep you hanging. A few months passed and I didn't know what was happening on the ETT front. I think I was shooting Sheila ki jawani when I heard that Salman had agreed to do the film. I felt very happy for Kabir because he had found a good leading man.
We heard that you have done a lot of action scenes in ETT…
Most of the action is done by Salman. I just have two action scenes. I was not comfortable doing them, because I felt uncomfortable jumping from a high altitude. Yes, there are cables and other safety measures, but there is a moment of free fall which I don't like.
Do you prefer Salman doing romantic films or action films?
I think after a while Salman gets pakaoed (bored) doing romantic scenes. That is probably the reason why he balances it out with action. He is like that in real life as well.
You are working with all three Khans – Salman, Shahrukh and Aamir. How was the experience?
People always ask me, how much has Salman changed since Maine Pyaar Kyun Kiya. I think the film industry and the people around him have changed. He has been the same always. It is fun working with him. He is spontaneous and is nice person. With Shahrukh, initially I was intimidated. He is all over the place. I have been around for about nine years now, but had hardly met him a few times. Over the years, I have watched his films and I felt really intimidated when I had to act with him. But it was really silly of me, because as soon as the shooting started we were having so much fun. I can't say much about Aamir because we haven't really started shooting. I have met him a few times for Dhoom:3. I think he will be a good costar, yes.
We have been hearing very good things about you from Anushka Sharma…
It is very nice of her to say so. We bonded really well while shooting for Yashji's film. We played this little game during the shoot. We used to make our version of the scene after every shot. It was fun!
You have been around for so long, and have made it to the 'A' league of actors. Is there any role that you are you pining to do?
My costars have been around for about 25 years and there would be something terribly wrong if they are not headlining the project. Having said that, I do feel that there is a role that I want to play. Only that I don't know, which role it is. I hope some director or writer approaches me and narrates a film that has my dream role. May be I spot that role in a film that I watch some day? But yes, I am very happy in the space that I am in. I go to the films and come back home. I like this routine. (Smiles)
Are you looking forward to doing woman-centric films like your peers, Kareena Kapoor, Priyanka Chopra and Vidya Balan?
I have worked with all the leading men and have done many films in many genres. While I am not really waiting to do a woman-centric film, I would like to do one if I come across an interesting script. Kareena is my senior, and she has been around for a long time. I am sure Kareena, Priyanka and Vidya are all happy in their respective spaces.
Wasn't your sister supposed to make a debut in Bollywood?
She is happy doing her stuff back home. If she doesn't want to get into films I can't force her.