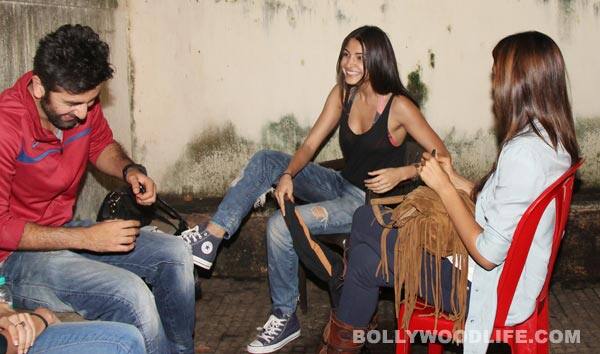 skip advertisement
Ranbir-Anushka-Deepika-060812
And we must tell you that it was one sneaky and hush-hush rendezvous
Remember how everyone speculated about Katrina Kaif being the reason behind Ranbir Kapoor-Deepika Padukone split? But the duo have stoically maintained that they're 'just good friends'. What's more, Katrina has even confessed to the media that she is single.
Hmmm, now does that mean we should believe there's nothing brewing between Ranbir and Katrina? Perhaps not. 'Coz alert birdies spotted Kaif paying RK a visit at his Krishna Raj residence in Bandra around 2am on Saturday night! Ahem ahem.
But what actually makes it even more interesting was that this secret rendezvous took place immediately after Ranbir spent a nice, pop corn filled evening with his ex-girlfriend Deepika Padukone at Ketnav studio at a private screening of Gangs Of Wasseypur II. Whoa! Now that's pretty….ummm…twisted, right?
Birdies suggest that RK left from Ketnav at 1.30am and reached his Krishna Raj bungalow within a few minutes. Soon after Katrina's car that fleetingly stopped at the bungalow and then left – hold your breath – without Katrina!
And while we refrain from asking what Ranbir and Katrina did all night long, apart from of course, sharing a friendly 2am coffee, what we do want to know is – did Dippy know about your plans, dear Ranbir? And did she care? Looking at the smiling, fun-filled pics of the meet at Ketnav studio that included RK, Deepika, Anushka Sharma and Imtiaz Ali, we surely doubt that. Wink, wink. Check out the pictures below!