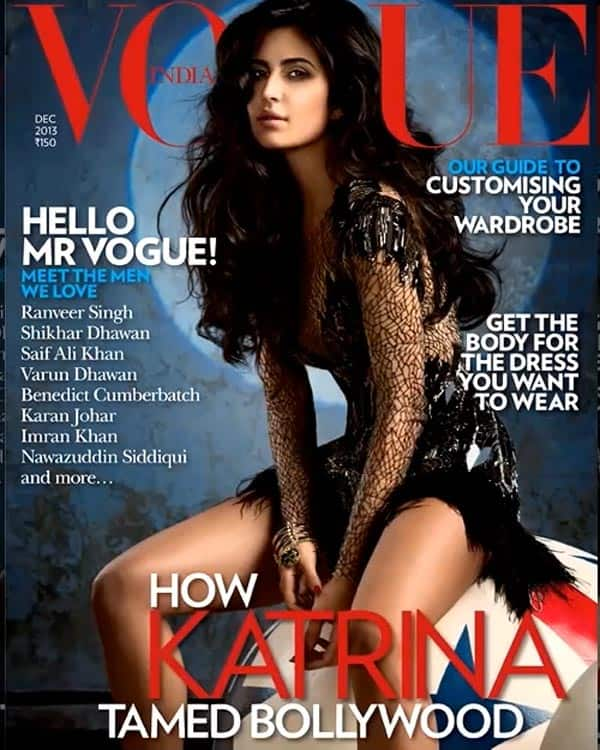 skip advertisement
The Dhoom:3 actor sheds her girl-next-door image, changes out of her comfort wear and makes some bold fashion statements in the latest issue of Vogue India
Katrina Kaif manages to get eyeballs not just for her wild style statement, but the titillating title of her feature: 'How Katrina tamed Bollywood'. And she herself looks untamed in the shoot. And even if she failed to impress us in the Dhoom machale song or with her moves, she makes up with this story. She looks smokin' hot in most of the pictures.
Kat wears a Julien Macdonald dress with elan, even though the cover shot itself isn't her best shot, when compared to the wide variety of looks she has been part of over the years. Even though Kat's smooth legs look tempting on the glossy cover, we wonder if it is the hard workout regime that she should thank for that or the Photoshop experts. Whatever the case, here's a look at Kat's best and worst shots…
Wearing a strapless dress, Kat is seen posing for the camera as she adds shimmer to her already glossy pout. It is her expression that will send your heartbeats racing. The Dhoom:3 gal flaunts her tanned, toned legs. For once Katrina manages to look mysterious (has keeping her love life under the blanket helped her perfect the look?). However, we're sure this firang babe isn't so dusky, and wonder if the Spanish holiday tan has lasted so long, but full credit to the makeup guys for the bronzed look…
Ms Kaif in a push-up corset looks ravishing. Her otherwise fragile frame seems quite voluptuous, at least up top. Her messy hairdo adds to her sensuousness. While Katrina completely manages to make us go weak in the knees with this shot, we would like to also congratulate the photo editor who has added those delectable extra curves to Kat's slender body…
Let's quickly glance through the other shots in which Kat fails to sizzle. In an asymmetrical-hem dress Kat makes a desperate attempt to look sexy. The sheer purple fabric don't exactly spell 'hot!' either. The least admired shot is one that has Kat posing in a feathery outfit – it looks like a PETA campaign and her plumped lips can be easily mistaken for the fallout of physical abuse.
This photo shoot is appealing mainly because Katrina aims to experiment and be different. We like the Dhoom:3 chick's untamed side and think she should try this more often, off camera too…
[flv image='http://st1.bollywoodlife.com/wp-content/uploads/2013/12/katrina-Kaifs-full-photoshoot-from-Vogue-December-3.jpg']http://st1.bollywoodlife.com/wp-content/uploads/2013/12/Katrina-December-Vogue-photoshoot.flv[/flv]