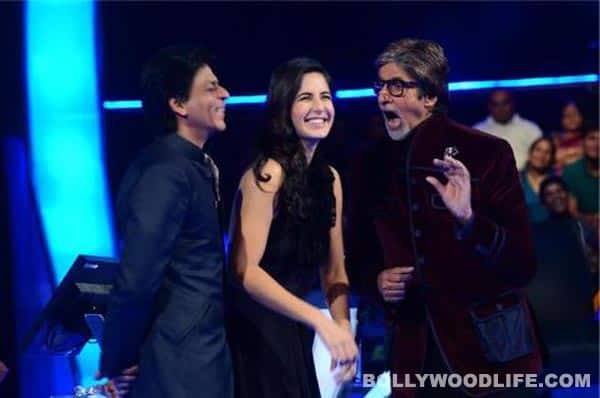 skip advertisement
"Dress classy, dance cheesy," said the now-favourite man on the famous social networking site. And these three B-towners decided to do just that. What happened?
There's been a steady stream of celebs popping up on the sets of Amitabh Bachchan's Kaun Banega Crorepati 6?, the latest being Shahrukh Khan and Katrina Kaif. And no points for guessing why this duo made a beeline for their respective hot seats – simply to promote their upcoming movie Jab Tak Hai Jaan!
But if you thought this episode of KBC 6 was in anyway going to hint at the mushiness of the Yash Raj film they're promoting, then you're in for a surprise. 'Coz pics on AB's Facebook page show that SRK, Kat and Amitabh dance in total Gangnam style! Ahem ahem.
For those who are still not aware of this reigning 'hero' of a social networking site, Psy is a Korean guy who flaunts a funny dancing ishtyle called Gangnam in his music videos. And many say that only the Gangnam creator can carry it off with that perfect elan. Others look…well…plain funny.
But now we have three hot haute favourites of B-town who have done it, and that too on national television! So is Psy in for some serious competition? Or shall we gear up to start ROFLing at the coveted step gone wrong? Time to wait and watch, peeps!