KBC 6: Karan Johar, Alia Bhatt, Varun Dhawan, Sidharth Malhotra get set to answer Amitabh Bachchan!
Latika Payak
Last Updated: 10.26 AM IST 10.01.2012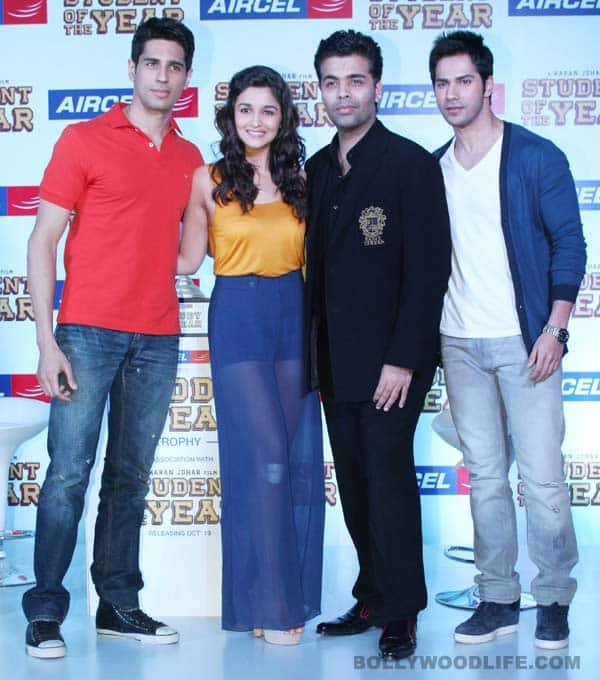 Yogen Shah
Sign up for the BL newsletter!
The Student Of The Year team will soon make an appearance on the most popular quiz show on television
After spending some time with the English Vinglish actor Sridevi, now Amitabh Bachchan makes space for some bright eyed newbies – Alia Bhatt, Varun Dhawan and Sidharth Malhotra – and the maker Karan Johar of Student Of The Year in the sixth season of Kaun Banega Crorepati?.
So what do we look forward to now? Will AB Sr quiz the four of them together – that means four hot seats, whoa! – or will it be a turn-wise session? We wait to find out. But whatever it might be, we wonder if Mr B will go a li'l easy on the kids. Will he?
What's more, glancing at the pics of this episode, we see that the three youngsters look trendy in their semi-formals, and KJo…oh wait….is spotted wearing the same clothes he wore to Ranbir Kapoor's birthday party. Uh-ho! Maybe Karan was crunched for time while attending the two events on the same day. Possible, no?
Anyway. While KJo lost his single brownie point for that fashion flub, we hope he helps his baccha party earn loads of moolah by giving sahi jawaab to Amitji's General Knowledge questions. All the best, SOTYers!
First Published: 7.30 PM IST 09.28.2012