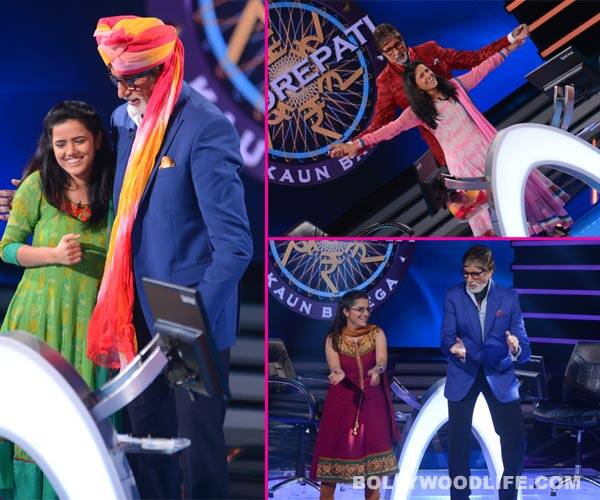 We bring the best moments of the seventh season of Big B's quiz show
Kaun Banega Crorepati – a show that won millions of hearts in a short span is in its seventh season now. This quiz game show has not only seen many dreams come true but has also inspired many. But what makes KBC watchable? Is it the contestants or the Bollywood celebrities who make an appearance on the show or is the host Amitabh Bachchan?
We are sure that many of you will say that it's Big B himself who adds that spark to the show. What makes KBC worth watching is Sr Bachchan's humbleness, sense of humour, the baritone…should we go on? KBC gives us our dose of action, drama, romance, tragedy and comedy.
Here are some special moments from KBC 7 which will make you fall in love with the superstar all over again:
When Big B turned dance teacher – When Big B came to know that hot seat contestant named Deepika cannot dance, he turned dance teacher for her and taught her a few moves. No points for guessing. Deepika was completely awestruck after watching Big B dance and so were we!
When Sr Bachchan wore a pagdi – One Big B's fans was extremely delighted and witnessed her dream come true when the Shehenshah wore an authentic pagdi which was gifted by her. Need we say that Big B was looking charming in that pagdi?
Amitabh's Titanic pose – Taking a cue from his The Great Gatsby co-star Leonardo Di Caprio, Big B indulged in some Titanic style romance on the show. Now we are sure that this female contestant will relish this moment all her life. After all not everybody is lucky to romance the superstar, right?
When Big B's 100 year old fan came to meet him – Bernandini D'souza, Mr Bachchan's fan, is suffering from Alzheimer's disease. She doesn't remember anything, but what she doesn't forget is his name. The 100 year-old eats her food only after looking at Big B's picture. The meeting was special for the superstar as well as D'souza.
Clearly, KBC has become a synonym to Amitabh Bachchan and one cannot imagine the quiz game show without the Shehanshah. Hai na?