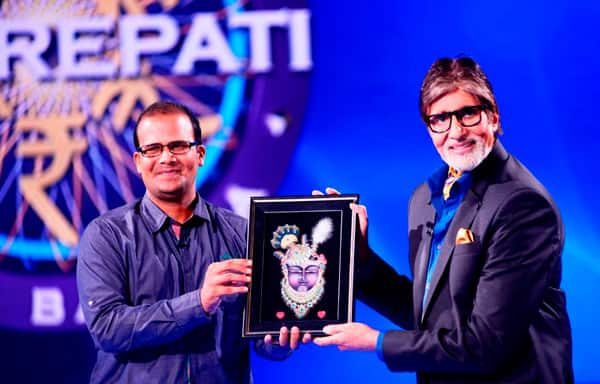 Big B was speechless after he received a special gift from the first crorepati of Kaun Banega Crorepati 2013
The first crorepati of Kaun Banega Crorepati 7 Taj Mohammed Rangrez could not ask for more. On the occasion of Ganesh Chaturthi he was blessed with Rs 1 crore and also met the biggest superstar of Bollywood Amitabh Bachchan. That's not all. He also got a special gift for Mr Bachchan.
Taj gifted Big B a special photo frame which had a picture of Lord Krishna. The special thing about this photo frame was that it had two hearts made on the bottom two corners of the frame. Inside the hearts were two grains of rice on which the names 'Amitabh' and 'Jaya'. When Big B saw this, he was overwhelmed by Taj's gesture.
Now isn't that sweet? What do you think guys?