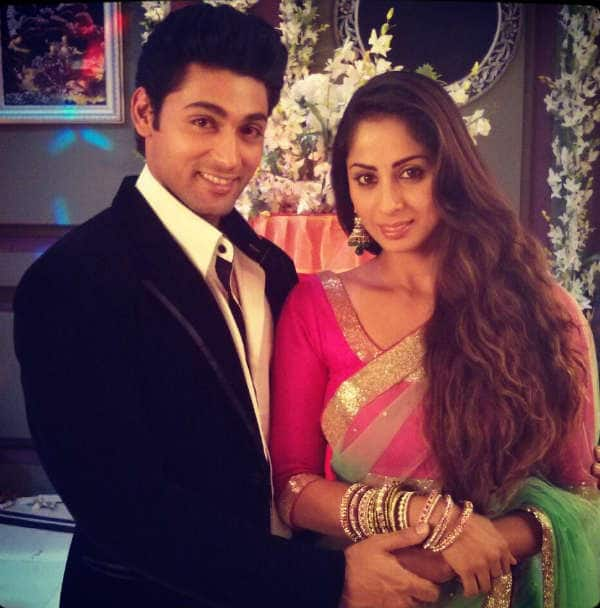 Dhruv and Saanchi got married amidst a lot of drama and chaos, but love conquered it all, did it really?
Saanchi (Sangeeta Ghosh) and Dhruv (Ruslaan Mumtaz) are back from their honeymoon in Goa. They've entered Dhruv's home in Mumbai, but the welcome party was not too cool with the idea of accepting a middle class woman as their bahu.
When Saanchi's family came home to surprise her, the in-laws, namely Suparna (the elder daughter-in-law) insulted them by making them wait outside the gate in the sun. Aaji's (Sulbha Deshpande) health deteriorated and she fainted. Saanchi got them inside the house and took care of them. When Dhruv met them, Aaji and Nani (Meenakshi Sethi) gave him gifts, which he graciously accepted.
Yash (Amit Behl) and Suparna have decided to separate the happy couple by all means necessary. So they will devise a plan to insult her, create misunderstandings between DV and Saanchi and do everything in their power to see them separate. In the upcoming episode, Suparna will take Saanchi shopping to a designer store. She will pick sarees worth lakhs and ask Saanchi to pay. This will obviously embarrass Saanchi, who will not be able to afford such expensive sarees.
In the evening Ankita (Hunar Ali) will plan a party with Dhruv and Saanchi. DV wants to introduce his love and now wife to his friends and the world. But Ankit will try and ruin the moment for the happy couple. Under Suparna's guidance, Ankita will humiliate Saanchi in front of his friends. She will embarrass Saanchi, but DV will come to her rescue.
Well it's nice to see DV protect his wife's honour, but we wonder will he always be by her side to help her out in difficult situations. There will be a time when Saanchi will have to face the criticism all by herself, no? Will the Panchgani girl defend her honour? Will these constant tussles with the in-laws affect the couple's relationship? Will Ankita be able to poison DV and Saanchi's relationship?
To find out more on Kehta Hai Dil Jee Le Zara keep watching this space…