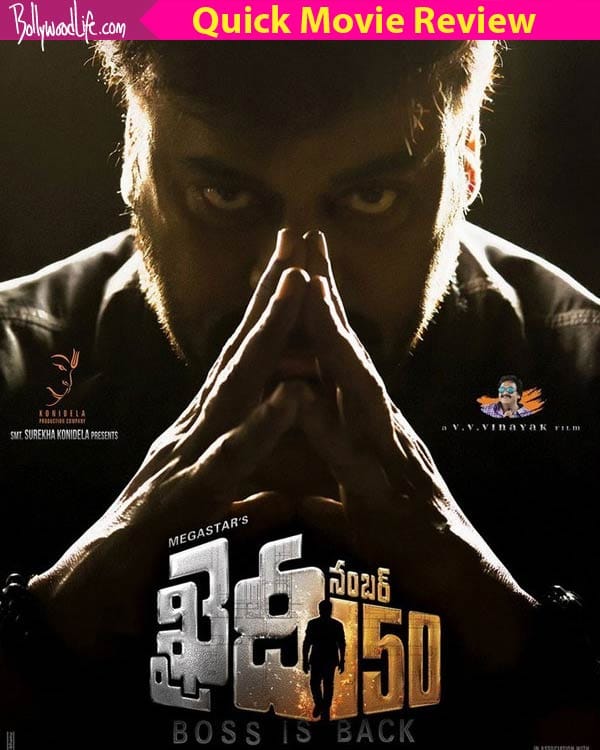 After 10 years, the megastar of Tollywood, Chiranjeevi garu is back with his big ticket release – Khaidi no 150. To see the boss on screen after a long gap is a big deal for all fans out there. Our critic Karthika Raveendran is watching the film right now and has sent a a quick review of the same.
"When he appeared on screen the very first time, they screamed till they were hoarse! The movie is a remake of the Tamil movie Kaththi that touches upon a social issue. The original starred Vijay in a double role. It was Ilayathalapathy himself who got Chiranjeevi the rights for this movie. The movie does follow the original, but it has considerably tweaked to suit the Telugu audience and the mega star's image.
For starters, the Telugu one is funnier with its hilarious dialogues and Chiranjeevi's comic timing. Chiru as Khaidi No. 150 (Seenu) is carefree, shameless and doesn't care about the world. He makes a living by stealing and is not guilty about it. Like the in the original, he escapes from prison. On his way to Bangkok for a holiday, he bumps into Lakshmi (Kajal Aggarwal!) who he falls in love at first sight. He changes his mind about going to Bangkok and decides to pursue her instead. That's when he witnesses a gang of goons shoot a guy in a van. Seenu and Malli reach at the location of the shoot to save the guy who happens to looks exactly like Seenu. Yes, a doppelganger! He is Shankar, aprofessor/scientist of hydrology. That's when Seenu decides to leave Shankar in the hospital with his documents so that police who are after him, catch Shankar instead. ALSO READ Chiranjeevi's Khaidi no 150 to beat Nandamuri's Gautamiputra Satakrni in the Tollywood box office clash, declare fans.
Seenu and Malli end up at an old age home whose people welcome them thinking it's Shankar. Sreenu is enjoying his life as Shankar until at a felicitation he realises the kind of social work Shankar was involved in. It dawns on him that all these senior people are dependent on him. That's when he decides to be Shankar and fight for the cause. Apart from the dialogues, get ready for Chiranjeevi's dance moves! He sets the screen ablaze with his swag and dancing style. Chiranjeevi pulls of both characters effortlessly. The humour is a big plus although at times it seems forced. All in all, it's been a great watch so far. Here and there, there are some larger than life scenes with Chiranjeevi, but it doesn't distract you from the movie. Kudos to then director for not making it only about the megastar. Now let's see if Seenu posing as Shankar can save the village."
Stay tuned to this space for the full movie review.