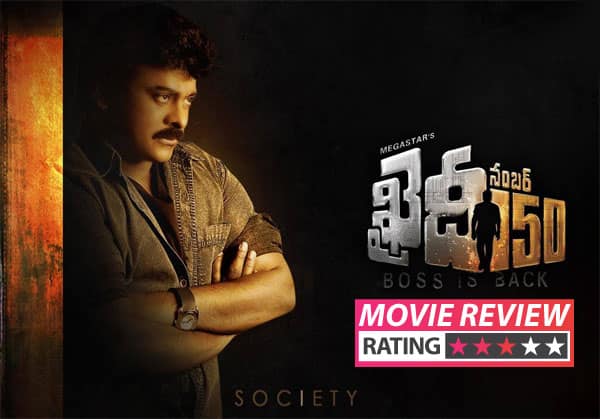 Finally the day is here, Chiranjeevi's much-awaited Khaidi no. 150 hits theatres today. After years of waiting, Chiru fans can't contain their excitement, as the boss makes a comeback to the big screen again. The advance booking have got off to a phenomenal start. along with single screens, multiplexes are witnessed house full scenarios. They are screening as many as 33 shows in one day. Also, the Pongal festivites are starting off with Khaidi no 150. Considering, it's the only movie releasing today, it holds an edge above others. So, what is this highly anticipated comeback movie like? Read on to find out:
What's it about
Khaidi no 150 is the official Telugu remake of the Tamil mvoie Kaththi. The original starred Vijay. It was ilayathalapathy who helped Chiranjeevi acquire the rights for the Telugu version. This film stars Chiranjeevi in a double role, one as a petty criminal and the other as a social worker. The film marks Ram Charan's foray into production. So will this comeback-remake film be a winner? Is Chiranjeevi as impressive as he was, before he took a break from cinema? Turns out, impressive or not, it was a great feeling to see a Chiranjeevi starrer after a long gap.
What's hot 
The movie was hilarious. Although it was tackling a serious social issue, the film managed to have many rib-tickling moments that will crack you up, (certain moments were unnecessary though).  Brahmanandam as Dober deserves a special mention as his comic timing was superb. Chiranjeevi as Kaththi Seenu was entertaining with his cheeky one liners and his goofy expressions. Hats off to the director for two things – He did not make Khaidi no 150 only about Chiranjeevi, The plot also held relevance even in this starry remake. Also we have to say, Gowtham Raju did a fabulous job on the editing front. No scene felt like a drab. Chiranjeevi as the other character Shankar was decent as well. While Kaththi Seenu seemed more impressive, neither character put the other down. Have to say, it was great to have boss back. His energy, dancing skills, comic timing, dialogue delivery have been missed. Khaidi No. 150 is hardcore commercial entertainer and lives up to that, completely. The makers had stated, they would tweak this movie to suit the megastar and also give it a hilarious touch, and they have kept their word. Also Read: 5 reasons why you need to watch Chiranjeevi's Khaidi no 150 
What's not 
At a few instances, the humour felt unnecessary, there was this one particular dialogue that had to do something with rape; it was more offensive than humorous. We are wondering, if people will take kindly to it. This Telugu obsession of having to break into a dance at every instance has to stop. At every turning point in the story, they break into a song!  Kajal Agarwal's role was a complete waste, you could count the number of dialogues she had in the movie. As for the villain, why couldn't they have retained Neil Nitin Mukesh? Tarun Arora, you were a disappointment. There's this scene where the camera focuses on a tear falling from Chiranjeevi's eye. You read that right, a tear drop! It was quite amusing and not in a good way. One thing, the makers could have changed in the story is the stereotypical branding of corporates. In 2017, corporates are not exactly evil people who wear 'suits'. True, they were following the story, but couldn't it have been tweaked to suit the current year?  Chiranjeevi Garu has made a comeback to the big screen after a long gap, just seeing him act again was a great feeling. But it would be preferable if he took on more mature roles in the future.
What should you do 
If you want to catch the megastar on the big screen in a typical entertainer, this movie is for you. Boss is back indeed.
Rating:
out of 5
Reviewed by karthika raveendran
* Poor
** Average
*** Good
**** Very good
***** Excellent