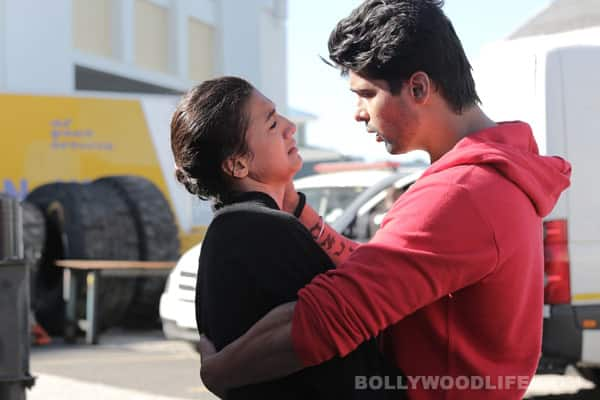 With the show wrapping up this weekend, we bring to you top three moments that will haunt us even after the season ends
Are you tired listening "Oh My God" again and again on Khatron Ke Khiladi 5: Darr Ka Blockbuster? So are we. The loud reactions and attempts to grab eyeballs has been an old trait of drama queen, Gauahar Khan. Kushal Tandon's lady love has been a hot favorite of reality show makers, may be that can be a reason for this model turned actor to participate in several reality shows. Interestingly the Jhallah wallah girl's co contestant on KKK5, Geeta Tandon had called her 'dramatic'. With KKK5 wrapping up this weekend, we bring to you top 3 dramatic moments from the show, where Gauhar out do everyone in the task to grab attention.
Deep freeze – In this task the contestants had to be in a glass box, with ice blocks falling on them. They had to remove 100 tubes of three colors which were stuck to the glass and drop them in the boxes with the mentioned colors. Even though Ajaz Khan and Geeta attempted the task with our drama queen, Kushal's ladylove made the maximum noise after the task. The actor said her hands were numb and had almost fainted. She screamed and shouted, asked for warm blankets and was immediately taken to the doctor's care. Host Rohit Shetty even rubbed Khan's legs to make her feel warm. The Bigg Boss 7 winner was eliminated after the completion of this task as her friend turned foe Ajaz managed to emerge victorious.
Torture tunnel – Ms Khan attempted this task with her boyfriend. While the Ek Hazaaron Mein Meri Behna Hai actor had to hunt keys from an ice box, Gauahar had to deal with thousands of insects in a tunnel and pluck flags with her mouth simultaneously. Indeed the task was difficult; however, Rochelle Maria Rao who was also attempting the task was rather calm and composed and the Ishaqzaade actor was loud and suitably equipped in her drama queen mode. The other contestants who were watching her were flushed with shock. Rochelle and Rajneesh Duggal who were attempting the task after the Bigg Boss 7 contestants , were terrified with Gauahar's reaction. We wonder if this was her strategy to dismay the following couple.
Cross building task – This was one task which Kushan Tandon's girlfriend refused citing phobia for heights. She had to complete this task with Deana Uppal, Ajaz Khan and Geeta Tandon. While the other three did the task, Nigar Khan's sister tried to attempt it. However when she reached the task spot, the actor began to panic and refused to do the task. Though, she did not participate in the task, the Drama queen was seen advising everyone else involved in the task. What were you thinking lady?