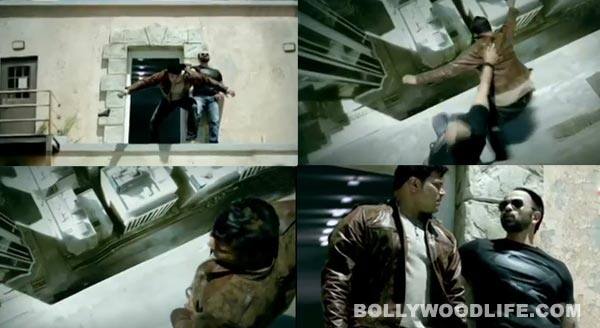 The show is all set to be aired from March 22, 2014. Watch the new promo
Fear Factor Khatron Ke Khiladi 5 has been touted to be extra special and dangerous this season. With Rohit Shetty as the new host, we are sure there will be some exquisite, back breaking and nerve wrecking stunts.
The new promo showcases Dayanand Shetty in his typical avatar as Inspector Daya from CID, who goes around breaking doors. However, this time when Dayanand breaks down a door, he doesn't know that there's a 90 floor drop beyond that. Rohit stops him just in the nick of time.
While we are aware this was shot in some studio with a chrome background. We've heard that Mr Shetty has tested the contestants' endurance level until they broke. This years' KKK 5 is going to make everyone sit up and notice. We hope they deliver on their promises. Fingers crossed!
[flv image="http://st1.bollywoodlife.com/wp-content/uploads/2014/03/daya-promo.jpg"]http://st1.bollywoodlife.com/wp-content/uploads/2014/03/daya-promo.flv[/flv]