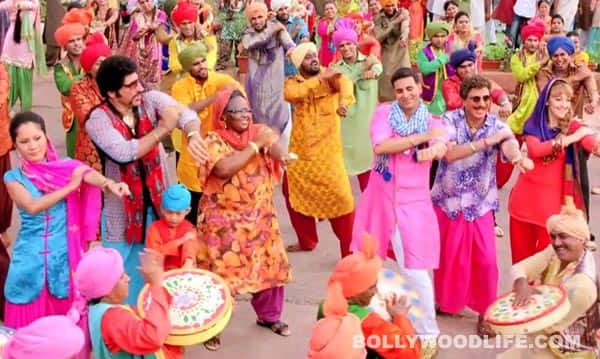 The new song from Khiladi 786 titled Khiladi bhaiyya is funny and lame in equal proportions
Akshay Kumar's Khiladi 786 is an action comedy, and that is made evident from the trailers. But the producers want to really play safe and are hell bent on forcing the genre of the film down audiences throats, because the 'action comedy' genre has been doing well of late, irrespective of the fact that a film has a story or not. Which is why almost all songs in the film are a mix of fight and dance!
And in the new song from Khiladi 786, you see similar stuff that you saw in other songs from the film. It has Akshay acting like a goofball, grinning from ear to ear, dressed in colourful Pathani's, and bashing up bad guys, like in the other songs, the difference being that this time Akshay is looking for a girl. He is eager for one too, and says just about anyone would do!
There is also the trademark step that has come to become a symptom of the "action comedy' genre, and thankfully it is not tear-inducingly lame, as it is in some of the other films like this one… like the dance step in Po po from Son of Sardaar, for instance!