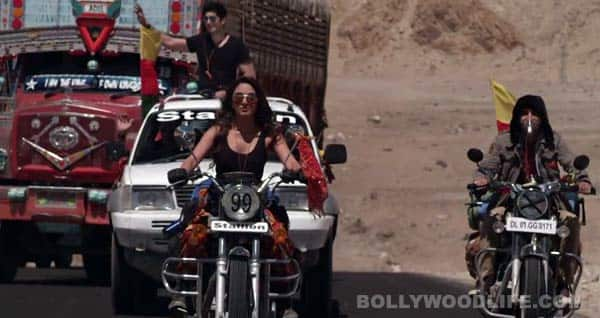 The pretty newcomer was saved in the nick of time when Mohit Marwah intervened
Kiara Advani plays a brash youngster in her debut film Fugly. The film's director Kabir Sadanand made her ride a Bullet on the scenic NH1 highway. The gorgeous actor learnt how to ride the bike but got iffy whenever she was meant to start or stop it. So, Kabir appointed some of the crew members to help her start and stop the bullet.
All went well till Kabir realised that a herd of trucks are hurtling down the same road that Kiara was riding her bike on. A panicked Kabir instructed Mohit, who was riding behind her in a truck to signal the trucks to avoid coming in Kiara's way. And thus a scary accident was avoided. We applaud Kabir's presence of  mind and are glad that all went safe and smooth for the pretty lass. We wonder if this is how love brew between the alleged new couple of B-town? Here is a video of Kiara sharing her biking experiences, watch it tell us if you would go watch Fugly for her?