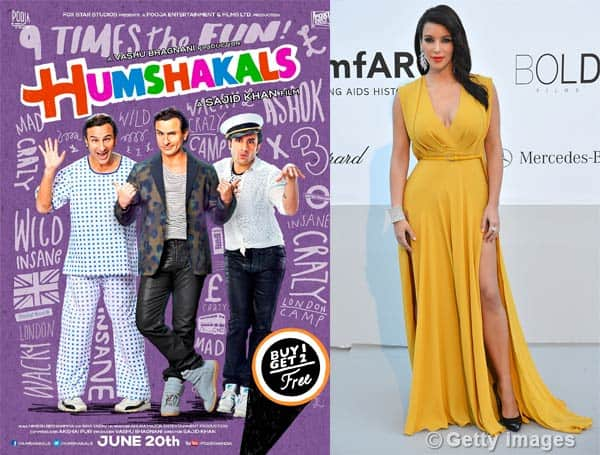 Sajid Khan is leaving no stone unturned to promote his latest film, we understand Khan's efforts especially after the last debacle at the box office
Joining Saif Ali Khan, Riteish Deshmukh, Tamannaah, Esha Gupta and Ram Kapoor on the premiere night of Humshakals will be the Kardashians – Kim, Khloe and Kourtney. While having the Beverly Hills beauties will only add to the glamour on the red carpet, we hope the Kardashians first visit to India doesn't hog all the limelight and leave the star cast angry. After all isn't one of the film's heroine, Bipasha Basu already miffed with Sajid for showering all his attention on Tamannaah?
We've seen many international celebs visit India in the recent times from Tom Cruise to Hugh Jackman, artists like Bryan Adams have come and performed here, while some like Akon and Snoop Dog have collaborated with the Bollywoodwallahs.
It seems that director Sajid Khan met the Kardashian sisters at one of the social meets in the US when they expressed their desire to visit India and Khan thought that it's best to make use of this opportunity and invited the trio for the premier of his movie. The gorgeous sisters were glad to be invited and are planning to attend the event together.
It seems that Kim and her family is very excited about coming to India. They are aware of the huge fan following in the country and are fascinated by their culture and traditions. They have heard a lot of wonderful things about India from her friends. Their presence at the premiere is a perfect fit since they are commonly known as one of the famous trios in the world best known for their attention seeking personality.
And with their sexy presence, Sajid's film can continue to remain in limelight. What next a cameo for the trio in Sajid Khan's next? If all goes well, we will not be surprised, hai na?