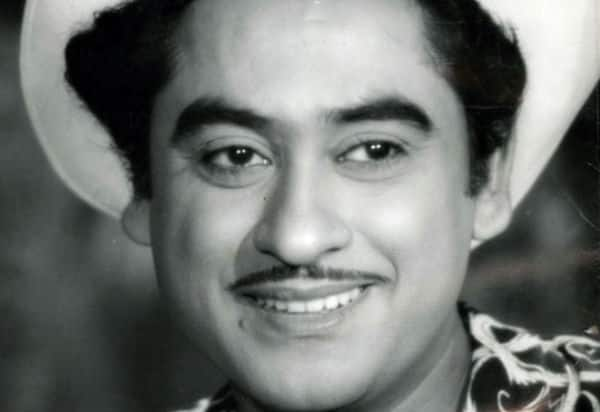 A man of many facets, this actor, singer, writer producer was in the limelight for almost four decades
Kishore Kumar was a man of many moods and moments and so despite being a public figure there were many layers of this versatile legend that were not known to his fans. Like, it wasn't Rajesh Khanna, but Kishore Kumar who was the original choice to play Anand in Hrishikesh Mukherjee's 1971 film. Here's a look at five lesser known facts about Bollywood's Yodeling king…
Career kick-start: Ashok Kumar's younger brother was named Abhas Kumar and changed his name to Kishore when he entered Hindi film industry. He initially worked as a chorus singer at Bombay Talkies. He made his first appearance in brother Ashok Kumar's 1946 film Shikari. His first singing stint was in he song was music composer Khemchand Prakash's 1948 film Ziddi and titled Marne ki duayen kyon mangu.
Struggle: Kishore's imitation of his idol KL Saigal go attention of SD Burman, who felt that Kishore Da had to develop his own style instead of emulating his favourite singer. Fascinated by Jimmie Rodgers, Kishore was the first Bollywood singer who mastered yodeling and made it one of his singing highlights. Salil Chowdhury felt that with no formal training in music Kishore Da had no talent, however he was also the one who offered him a song that was to be sung by Hemant Kumar in Naukri titled, Chhota sa ghar hoga.
Fame and achievements: The singer-actor was nominated for as many as 19 Filmfare awards and won eight of them. He became the voice of many reigning superstars of that time including Rajesh Khanna, Amitabh Bachchan, Dharmendra, Dev Anand. And also sang songs for Mithun Chakravarthy, Govinda and Jackie Shroff amongst the younger lots of actors. He sang songs in Hindi, Bengali, Marathi, Assamese, Gujarati, Kannada, Bhojpuri, Malayalam and even Oriya. There is also confirmed news that ge next superstar Ranbir Kapoor is all set to essay Kishore Da's character in a biopic that will be directed by Anurag Basu.
Eccentricities: There are many stories about the legendary Kishore Kumar in Bollywood folklore. "Beware of Kishore" was a sign that the actor-singer had installed at the door of his Warden Road flat while his Juhu bungalow was being done up. Producer-director H S Rawail, who owed him some money, visited Kishore to pay the dues. Kumar took the money, and when Rawail offered to shake hands, he reportedly put Rawail's hand in his mouth, bit it, and asked "Didn't you see the sign?".
In another such crazy incident, the actor drove all the way to Khandala from his film set by his car because the director forgot to say "cut". That's not it, when a producer once paid him only half of his money in advance and promised the rest after the film's completion the actor shocked everybody and walked into the sets with half of his head and moustache shaved and revealed that if his remuneration was not fully paid he would continue to shoot ib the half shaven look.
Personal: Kishore Da was married four times. His first wife was Bengali singer and actor Ruma Guha Thakurta aka Ruma Ghosh, who he was married from 1950 to 1958. He then married Madhubala, before she went to London for her treatment. However, Madhubala and Kishore had a troubled marriage with no acceptance from Kumar's family. It seems within a month of her wedding Madhubala moved back to her Bandra home because of tension in the Kishore Kumar household. This marriage lasted for nine years, and ended with Madhubala's death on 23 February 1969. He was later hitched to Yogeeta Bali and this relationship lasted from 1976 to 4 August 1978. Kishore's fourth marriage was to Leena Chandavarkar from 1980 until his death. Kishore Kumar has two sons, Amit Kumar and Sumit Kumar from his first and last wives respectively.