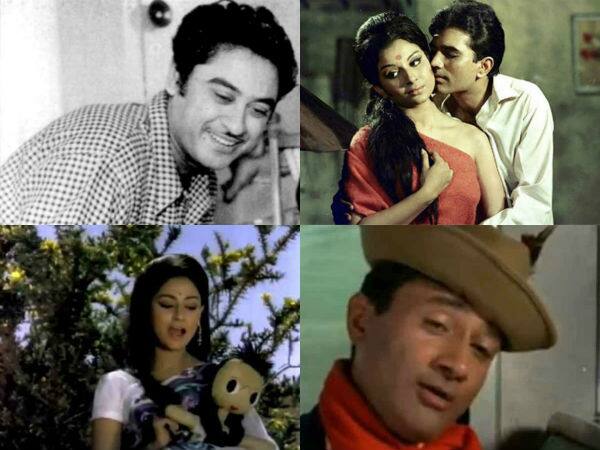 On the late legend's 85th birth anniversary, BollywoodLife presents to you a list of the singer's best songs
Just a while ago, we informed you about Google's doodle dedication to one of the most iconic singers this country has ever seen, aka Kishore Kumar. Today, the nation celebrates the singer's 85th birth anniversary and BollywoodLife on this special occasion has compiled a list of some of the singer's evergreen songs. Watch the videos and relive the saga of the singing sensation! The list is as follows:
Roop Tera Mastana
Starring Sharmila Tagore and Rajesh Khanna, Roop Tera Mastana still stands as one of the most sensuous numbers the industry has witnessed. A sizzling chemistry between the duo topped with Kumar's magical voice, this song from Aradhna tops the list. Watch video to know what we mean!

Jaanejaan Dhunta
Jaya Bachchan and Randhir Kapoor amidst a dense forest along with a haunting melody to depict the scenario; Jaanejaan Dhunta from Jawani Diwani comes in second. A mesmerizing composition indeed!
 Phoolon Ke Rang Se
This song featuring Dev Anand is still considered as one one of Kishore's most romantic numbers with unique lyrics to support the essence of the melody. Watch the video of the song from Prem Pujari below…
Eeena Meena Deeka
Eeena Meena deeka is a special number of Kishore's in terms of not only being an entertaining number but also a song from his film Aastha. Watch the video and catch the singing sensation in his dramatic avatar!
Kuch Toh Log Kahenge
A soulful number from Amar Prem featuring Rajesh Khanna and Sharmila Tagore, Kuch Toh Log Kahenge comes in 5th on our list with a scintillating melody topped with Kumar's magical voice. Watch video to catch a glimpse of Khanna and Tagore's evergreen romance!
Yeh Jo Mohabbat Hai
It has certainly come across as an obvious fact that Rajesh Khanna and Kishore Kumar had a special bond indeed. Yeh Jo Mohabbat Hai from Kati Patang featuring Khanna yet again, comes in 6th on our list having a unique melody topped with soulful lyrics. Watch video to catch the number along with Rajesh Khanna's iconic Devdas act!
Mere Sapno Ki Rani
Rajesh Khanna chasing Sharmila tagore while singing a romantic number; well doesn't that make a pretty picture indeed! This fun number from Aradhana concludes our list. Watch video to catch the duo in the typical Bollywood masala action!
So do you agree with our list? Post in your comments below and tell us some of your favourite Kishore Kumar numbers!