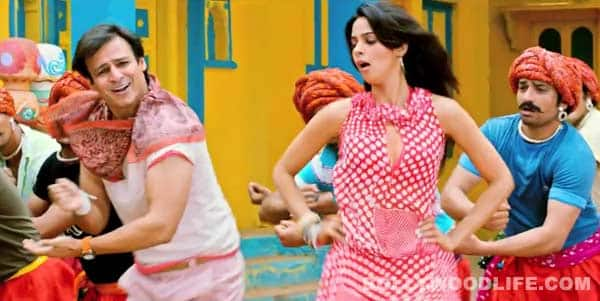 Watch the new song of director Sanjay Khanduri's forthcoming flick
Vivek Oberoi dressed in a pink tee and bright blue jeans tries to do a Govinda, but it's a poor imitation must say. And not too many actors can carry off a sidey song, jarring clothes, and exaggerated expressions, and come out looking cool, can they? Salman Khan and Govinda are rarities! Sadly, Vivek Oberoi in Kismat Love Paisa Dilli seems to be trying too hard, and that is a huge turn off.
Anyway, Mallika tries to add to the sizzle quotient but doesn't get anywhere. Composed by Amjad Nadeem, this number has been sung by Sonu Nigam and Ritu Pathak. The lyrics are lame and the composer has accomplished the rare feat of making Sonu sound bad. But it all looks a bit tacky! We wonder what is worse, the song or the video! After watching this song we don't have any expectations from KLPD. We wonder what happened to the guy who made Ek Chaalis Ki Last Local.
[jwplayer mediaid="139011″]
ALSO READ: 'Kismet Love Paisa Dilli (KLPD)' trailer: Vivek Oberoi and Mallika Sherawat get screwed!