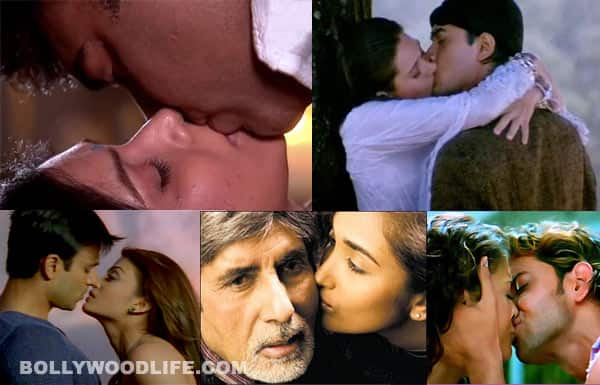 We never thought kissing could ever go so horribly wrong until we saw these. Wanna know what kinds of pappis to stay away from today? Take a peek!
Today, as per the calendar of romance, is officially 'Kiss Day'. Ahem ahem. But even on such a purposeful occasion, we pray that certain big screen and small screen celebs do not take the liberty to go ahead and smooch. *Fingers crossed*
Ram Kapoor-Sakshi Tanwar
We're sure of one thing – onscreen couple Ram Kapoor and Priya Sharma (Sakshi Tanwar) of Bade Acche Lagte Hain should NEVER kiss. After the blunder they committed during their first love-making scene – even the mere mention of which makes us cringe – we prayed fervently that their next love making scene would involve nothing apart from two roses or wine glasses coming together to depict THE kiss/lovemaking/ any kind of passionate activity, if need be. Thankfully, our prayers were partly heard and the second round didn't include any pappi, even though there was lots of rather passionate rona-dhona. So yeah, Ram and Sakshi kissing on the screen made us cringe (flee, even). What about you?
Aamir Khan-Karisma Kapoor
Do you remember the scene from Raja Hindustani where these two kissed under not mistletoe, but a tree? We're sure you wouldn't forget that one. No one does. And that's because of the sheer length of that lip-lock. The two went on and on and on until we were sure they'd eaten each other's lips off. Sigh! Dear filmmakers, we understand passion, but this? *Cringe*
Hrithik Roshan-Aishwarya Rai Bachchan
The kiss between our desi Greek God and the then ravishing Ash in Dhoom 2 led to a tiny rift between the Bachchans and Hrithik Roshan at the time. But hey, the lip-lock was hardly worth all the attention it got. It was so thanda, we shivered.
Amitabh Bachchan-Nafisa Khan
The fact that Amitabh, Nafisa aka Jiah and a kiss could feature in the same sentence still makes us cringe, and how! But the two did it, in Nishabd, and left us speechless. And don't blame the old man this time, peeps, because if you were privy to this 'eeew' inducing pappi, you would know that it was naughty Jiah's idea. And we hated it!
Vivek Oberoi-Aishwarya Rai Bachchan
The ex-lovers were going pretty strong during Kyun! Ho Gaya Na. And it was during those days that the two kissed onscreen. Sigh, what a bad kiss that was, with Ash leaning on Vivek and attempting to kiss her onscreen hero with zero expression of love/passion on her pretty face. Thumbs down!
ALSO READ: Who is kissing Alia Bhatt?