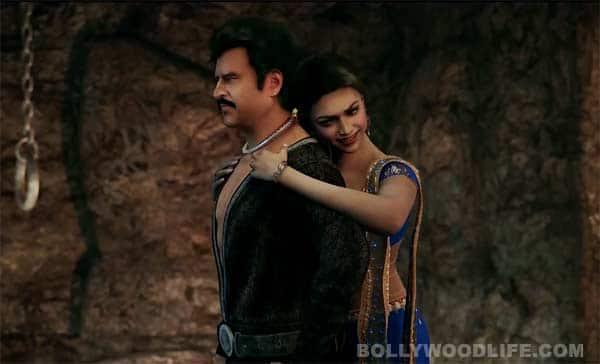 After much delay, the Rajinikanth and Deepika Padukone starrer first photo-realistic performance capture film has finally hit the theatres today
What's it about:
Before the film begins, the makers introduce us to a small feature presentation on what went behind the scenes during the making of Kochadaiiyaan. There are shots of Rajinikanth dressed up in a tight bodysuit doing his signature walk, while Deepika Padukone dances in a similar looking outfit against the backdrop of a green screen. We are told that painstaking efforts were taken to match the expressions of these actors to their live action animated characters. With so much expectation and Amitabh Bachchan endorsing this ground breaking technology there is a lot at stake for this CGI spectacle. A period film of two warring dynasties and empires, Kochadaiiyaan is a one man show of Rana (Rajinikanth) who keeps his enemies closer than his friends, falls in love with the wrong girl, and sabotages and plots against those who consider him his brother. Jackie Shroff and Deepika Padukone Bollywoodize what is primarily a south film made in a local dialect and dubbed unevenly in Hindi. Apart from the fight scenes, the story relies heavily on the visual grandeur brought to life by the art decoration and costume department.
What's hot:
Soundarya Rajinikanth undertakes an enormous task of not only directing her superstar father, but also breaking new grounds in digital effects for any Indian film. The production values are rich and the introductory visuals catch your attention. 3D works in most parts, especially scenes in the first half where we are introduced to the two empires. The art department pays attention to details in ensuring the emblems, motifs, and signature look of both these empires is distinct and different. Also the landscape, topography and camera work succeeds in drawing you into the depth of the storyline. Rajinikanth or his CGI personna manage to regale and entertain you in a few scenes that will have his hardcore fans wanting more. Fortunately there is a lot happening in the script to keep you engaged, especially the scene preluding the intermission which will keep you guessing the real motives of some key characters.
What's not:
The films biggest challenge is to use the new medium and technology to reach audiences who are alien to this format. Despite the global success of Avatar and other Hollywood offerings, Kochadaiiyaan is the first desi attempt to step into a totally foreign territory. The concept of photo realistic film is to use facial expressions and body language of a real person and mould it to create unbelievable action and motion sequences that might not be possible on a regular platform. While Rajinikanth's introductory scene sets the tone for whats to follow, the same can't be said about the other characters. Especially Deepika Padukone, whose photo realistic performance leaves much to be desired. The technicians have managed to get the postures and frames right, but there's something missing in the eyes and expressions that disconnects you from the emotions you are meant to feel. The dance routines get comical when the steps are out of sync with the music, similarly the Hindi dialogues don't really work with the Tamil lip sync.
What to do:
Conventional fans might find it a bit hard to worship their hero in this CGI avatar, but Kochadaiiyaan is a big bold step in opening new frontiers to film making, a step that deserves to be supported.
Rating:
out of 5
Reviewed by Tushar P Joshi
* Poor
** Average
*** Good
**** Very good
***** Excellent