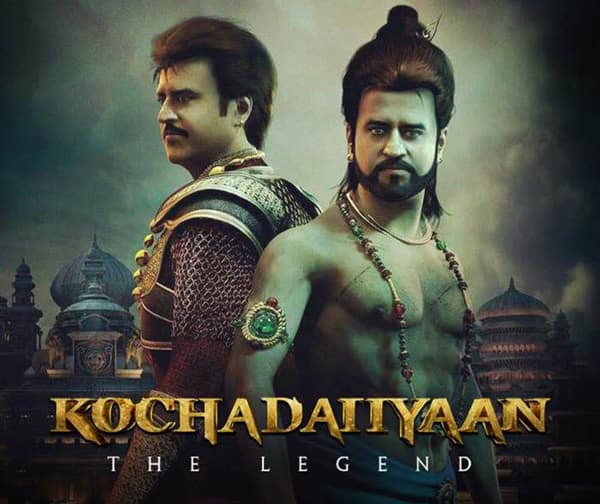 Music: AR Rahman
Lyrics: Mehboob, Irshad Kamil and Raqueeb Alam
Singers: Raihanna, Arijit Singh, Jonita Gandhi, Javed Ali, Shashaa Tirupathi, Karthik, Shreya Ghoshal, Raghav Mathur, AR Rahman and  the Kochadaiiyaan Ensemble
Rajinikanth's latest film Kochadaiiyaan sees him being directed by his daughter, Soundarya R Ashwin. The film has been in the making for almost six years after which it is now finally ready for release. First time in India a film has been made using the motion capture technology. The film has Deepika Padukone paired opposite the Superstar.  Will this AR Rahman-Rajinikanth combination be able to create ripples in the music world or not? Let us find out in the song by song music review.
Aye jawaan: Sung by AR Rahman and Raihanna, this is an anthemic song. This song has a bit of an eerie feel to it and will surely grow onto you. The lyrics by Mehboob motivate you a lot as a listener.
Dil chaspiyan: Sung by Arijit Singh and Jonita Gandhi, this is a sweet romantic duet. Written by Irshad Kamil, this song is soft and breezy. The way in which Rahman manages to blend western instrumentation in a typical Indian Classical melody is par excellence. This duet reminds you of the initial days of Rahman in the music world when he used to give similar heartwarming melodies. This track is definitely a marvelous one and will surely touch a chord with all the romantics.
Bol de: Sung by Javed Ali, this song is interspersed with dialogues by the superstar's dialogues. The song although is a bit confusing as the grand orchestration keeps shifting from one genre to another. Maybe with Rajinikanth lip syncing the dialogues, it might be a good watch in the film, but for the listener this surely fails to hook us on. Irshad Kamil's lyrics are good.
Vaada vaada: Sung by Shashaa Tirupathi and Karthik, this song has two versions—male and female. The female version is very alluring whereas the male version is mellifluous. Irshad Kamil's lyrics as apt for a composition which is so simple and sweet. The song gives you a soothing feeling like that of a lullaby. If you are someone who loves  classical music, this song is meant for you. The interlude with the shehnai makes it impossible to not fall for this delectable track.
Mera gham: Sung by Shreya Ghoshal and Javed Ali, this song makes the mood more grave and serious and is on the lines of a semi-classical presentation. The song has a haunting eerie feel to it. This song may not be like the instant humming catchy tracks, but this song is like old wine, which will grow onto you long after you have heard it. It is Shreya and Javed's perfectly complimentary voice which bring life to this delightfully complicated song.
Thandav: Sung by an ensemble of singers, who have been termed as the Kochadaiiyaan ensemble. The passionate singing by the Kochadaiiyaan ensemble fails to evoke that grandiosity of a battlefield. Raqueeb Alam's lyrics sing paeans about the protagonist, played by superstar Rajinikanth. Although being the title track, this song is not that potent and powerful. Maybe it might have a better reaction when seen in the movie.
Aaya khwaab ka mausam: Sung by Raghav Mathur, this song is a magnificent and grand Hollywood-style composition. Raqueeb Alam's lyrics are apt and so is the orchestration of the track. The arrangement of the instruments in this composition is perfect for the demigod stature of Rajinikanth. Not that Raghav Mathur's vocalisation is bad, but Rahman could have used a more powerful voice for the song.
Ranas Dream: This is an instrumental track on the lines of Aaya khwab ka mausam. This instrumental song, by the London Sessions Orchestra is alluring and gives the listener a perfect Hollywood score's feel. The visual of this song should indeed be a visual spectacle.
Verdict: In a nutshell, AR Rahman's had kept his best saved for Rajinikanth. Kochadaiiyaan is undoubtedly one of his best works in present times. Rahman has managed to give an international feel to this album by adding various genres of music in it. Our picks of the album are Dil chaspiyan, vaada, Aaya khwaab ka mausam and Mera gham. AR Rahman is back with his best!
Rating:
out of 5
Reviewed by Prateek Sur
* Poor
** Average
*** Good
**** Very good
***** Excellent