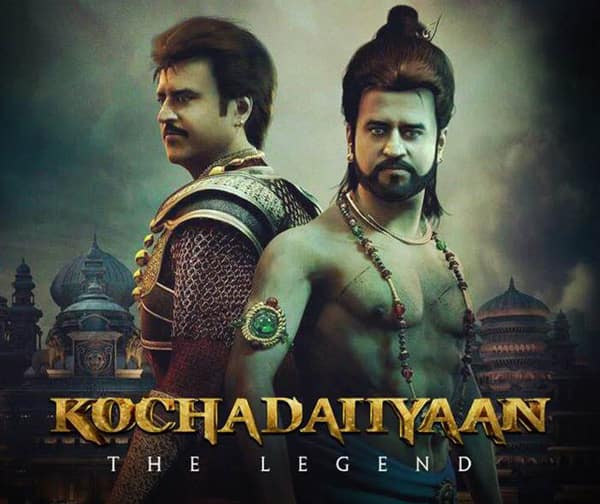 Soundarya R Ashwin wants to to immortalise her father Rajinikanth, informs Cineswami
It has been a long wait for Rajinikanth fans. The Superstar's last release was Endhiran (Robot). That was on October 1, 2010. Since then, fans have had to console themselves with Thalaivar's fleeting appearance in RA.One, a Lungi dance tribute in Chennai Express, a remake of Thillu Mullu and various other tributes dotted across the board.
When is Kochadaiiyaan releasing?
Three years on, it has finally been announced that Kochadaiiyaan will be released in December. Though a date has not been revealed, it is very likely that the film will release on December 12, Rajinikanth's birthday. The filmmakers released the teaser on Ganesh Chaturthi day and within 24 hours it has already gone viral, racking up a million hits. Dhoom:3 already occupies the coveted Christmas frame, though if the makers decide to pit Rajinikanth head to head against Aamir Khan, one can only imagine the box office carnage that will ensue.
As is well known by now, Kochadaiiyaan is the first Indian film to employ the Photorealistic Performance Capture technology, used in Hollywood by the likes of Avatar, The Adventures of Tintin and Beowulf.
Soundarya R Ashwin wants to immortalise Rajinikanth!
Kochadaiiyaan director Soundarya Rajinikanth Ashwin says, "My ambition has always been to immortalise my father and bring the legendary Rajinikanth that audiences around the world adore in an 'avatar' he hasn't ever been seen in nor experienced. During the making of Kochadaiiyaan, I began to realise that through the medium of this film, we had to embrace a much broader aim, which had the potential to be a game-changer for Indian cinema on a global level.
I have been passionately involved in film animation techniques and production for the last six years and for Kochadaiiyaan we wanted to do something unique and to create a new cinematic experience for India. To achieve this we decided to use Photorealistic Performance Capture technology which allowed us to have unlimited creativity on all grounds from building lavish sets, directing expansive fight sequences and creating elaborate costumes. Through the film, we will be able to transport audiences back to historic India and provide them with a much broader sensory experience.
Kochadaiiyaan has created not only firsts in Asia but also on a world level through the use of the technology. What we achieved with the support of our technical partners in the UK, USA, India and China, has made this project a truly international venture and we are sure that Kochadaiiyaan will set the path for Indian cinema's next 100 year journey."
Where has Kochadaiiyaan been shot?
The British funded project by reputed producers Mediaone Global Entertainment Limited and the AIM listed company Eros International has been shot exclusively at Pinewood Studios in the UK with a team of technical experts including the London based Centroid Studios, a state of the art facility for Full Body Motion Capture, which have worked on various famous Hollywood productions including the recent Brad Pitt-starrer World War Z, Pirates of the Caribbean, Iron Man 2 and Harry Potter, and Counter Punch Studios from Los Angeles, who have worked on Beverly Hills Chihuahua and Ek Tha Tiger. They worked in collaboration with Faceware Technologies, whose credits include The Mummy: Tomb of the Dragon Emperor and The Curious Case of Benjamin Button.
J Murali Manohar of Mediaone Global Entertainment Limited says, "As a British production company, we have always been fascinated by the global reach and magnitude of the Indian cinema fraternity. We worked along with technicians from across the globe and top talent from India and are now delighted to present a world first to an international audience with Kochadaiyaan. We are sure that the film will appeal to a much wider audience given its technological innovations, stellar star-cast and captivating narrative and the film will seal its place as being a global representation of Indian cinema."
Ambitious global plans indeed. All we hope for, once the dust around the release settles down, is that the motion capture visuals are not tacky and the film is good. Aishwarya R Dhanush's debut feature 3 left a lot to be desired. Let's hope that her sister's debut, with the added advantage of their father's virtual presence, works.