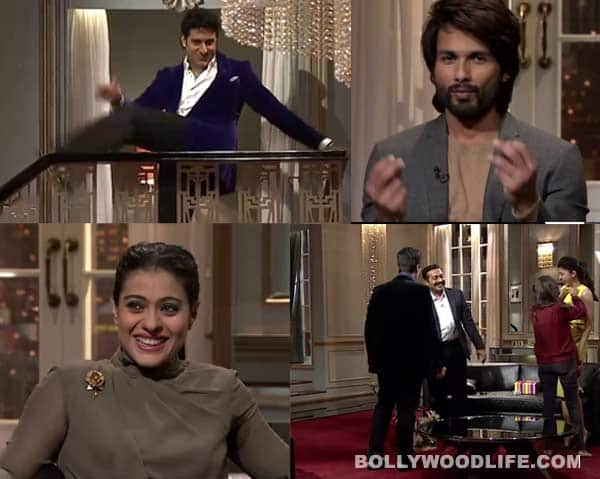 Your favourite stars are at their best behaviour when the camera starts rolling, but here is what actually happens behind the scenes
Shahid Kapoor and Abhishek Bachchan were imitating Karan Johar's 'I'm back' dance from Koffee with Karan (KWK) 4′s  title video, Freida Pinto and Nargis Fakhri stepped into KJo's shoes and turned the talk show hosts (and sexy ones we must admit), Kajol was totally unaware about the internet slangs and Arjun Kapoor's buzzer was just not ready to stop during the Koffee quiz round. You couldn't watch these behind-the-scene moments of your favorite stars when KWK 4 was telecast. But fret not, coz the makers of the Karan's chit-chat show have released a video which shows some uncut and unseen moments of your favorite celebs.
Shahid shared the Koffee couch with alleged girlfriend Sonakshi Sinha, and their chemistry was quite evident throughout the show. And while we all know that Sasha is a fab dancer, we certainly didn't know that he is good at imitating someone's dance steps too. But he is, as in this bloopers video, we can see the Kaminey actor showing us his version of Mr Johar's 'I'm back' dance including the filmmaker's infamous pout.
And same was the case with Abhishek Bachchan, who wouldn't let the Student Of The Year director begin the show as he, like Shahid, was copying Karan's moves after which an irritated KJo warned Abhi and said, "Abhishek, I'll slap you." It's totally hilarious, we must say.
Nargis and Freida, who shared the Koffee couch surely raised the temperatures on the show and made it all bold and explicit. So much, that the episode was aired at 11 pm slot instead of the 9 pm slot. And while we saw some 'fun' filled moments on-air, Nargis and Freida, also took control of the show and took a break for Karan in a rather sexy way. While Nargis' sexy voice made the filmmaker go all excited, Fakhri started feeling shy and sweaty. The mercury levels were soaring high off the camera as well, it seems.
Kajol who appeared with her cousin and filmmaker Ayan Mukerji was quite upset as she didn't know the full form of some internet slangs like FOMO, YOLO and so on. To an extent, that went on to say that people who have created these slangs don't know how to speak. Ah, well, grapes are sour, eh?
Then there were some candid moments from Arjun Kapoor-Ranveer Singh and Anurag Kashyap-Anushka Sharma episodes too, but we aren't saying it out. It will just spoil it. Watch the KWK 4 bloopers video to see your stars at their candid best.