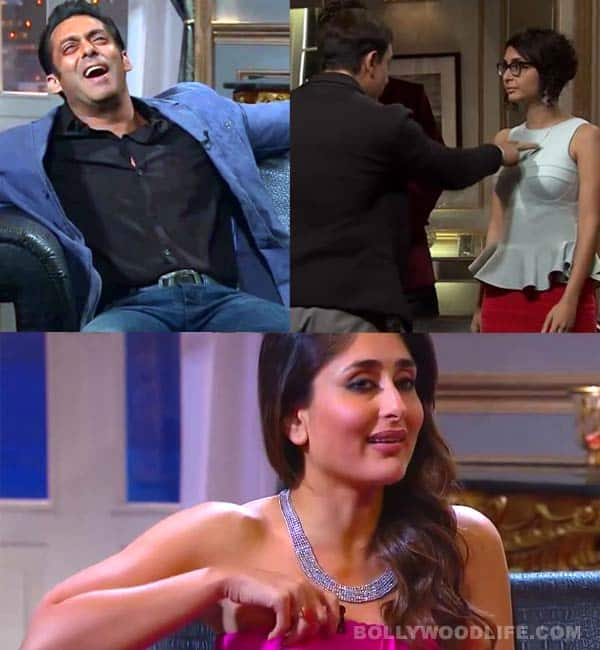 The stars are at the best behaviour on screen, at least that's what we saw of Bollywood biggies on Koffee with Karan 4, however what were they like behind the cameras
Salman Khan was busy catching mosquitoes, Aamir Khan and Kiran Rao were embroiled in a heated argument over the rapid fire questions and Kareena Kapoor Khan just couldn't stop doling out instructions to the cameramen about her 'shendi'! You could not watch the candid moments of your favourites when Karan Johar's show with these stars was telecast. Here take a look at the lesser known side of your favourite stars…
The Kick hero impressed us with his debut on KJo's popular chat show, be it his 'virgin' comment or then his opinions about competition, lovers etc, the actor was as entertaining as he's on silverscreen. But Sallu miyaan was as entertaining off the camera as well. The actor was busy catching mosquitoes, he even confirmed that these machchars on the sets of KWK were 'dengue wala machchar'. The Jai Ho star even discussed the filmmaker's chat show sets with father Salim Khan. SK was worried that audiences would feel that the guests are entering the sets from Karan's bedroom.
The Dhoom:3 star and his filmmaker wife Kiran Rao indulged in some fun mock argument about the buzzer round. While Kiran argued that Aamir didn't play fair and pressed the buzzer even before the question was completed, AK admitted that it was his special strategy. Aamir even alleged that Karan sided with Kiran and gave her a chance during two questions before him. This whole discussion could be best described in a funny was as – 'Pati, Patni aur Woh'!
The diva Kareena Kapoor Khan was busy instructing a certain Pompy to cut the shot if her hair wasn't prim and proper. She even went on to say -'the dogs are barking', we wonder if it was a comment on KJo's question or just a remark. The KWK 4 unit made Ms Kapoor Khan uncomfy as she felt everyone was staring at her, a star who still feels uneasy with all attention. And last but not the least, Bebo complained how she was being grilled and brother Ranbir Kapoor was spared by her favourite filmmaker.
Here take a look at our stars at their candid best!
[flv image="http://st1.bollywoodlife.com/wp-content/uploads/2014/02/Koffee-with-karan-bloopers.jpg"]http://st1.bollywoodlife.com/wp-content/uploads/2014/02/Koffee-With-Karan-Bloopers-Part.flv[/flv]