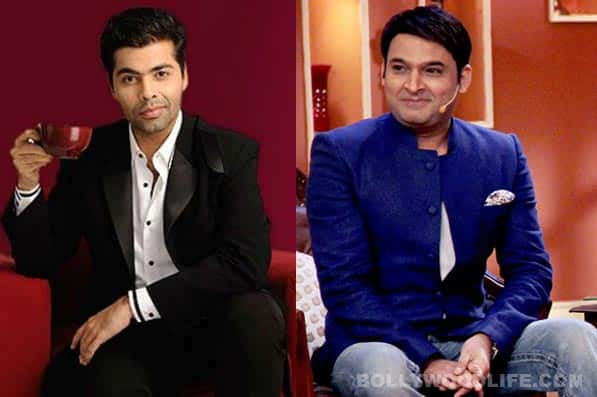 The latest season of the celebrity chat show might be having new guests but is it as good as previous seasons. Read on to know…
Karan Johar's latest season of Koffee with Karan (KWK) is no doubt different from the previous seasons. Some may say it is for the better while some would opine otherwise. Let us go back and see what has worked till now and what hasn't.
Karan Johar has always been lethal in the past seasons and he is known for it, but this season seems to be a li'l thanda. We have already had almost ten episodes and there have been no controversial statements or no after effects of the show. Earlier we remember celebs used to bitch about each other and later on there used to be a huge hullabaloo in the press over that. Many a times celebs used to come out to press and clarify their statements saying 'I didnt mean it that way' and so on. But nothing of that sort has happened so far. So has Karan lost his lethal inquisitiveness? Or are the celebs a bit too guarded and protective about their image?
So far, people always have a grudge against Karan that he used to only have only his friends on the show and not others from the film fraternity but this season it seems to have changed. We remember Anurag Kashyap telling a few years back that KWK was a mutual masturbation society for Karan Johar. But this season Karan has been trying different combination of celebs on his show. It is working and that unique combination of guests is one reason people are still watching the show.
After pondering a lil about the previous point, we realised that Karan had been calling different combination of guests but all those were actually film promotions. Starting from the Gunday stars (Ranveer Singh and Arjun Kapoor) coming together to the Gulaab Gang queens (Madhuri Dixit and Juhi Chawla) coming together, most of the episodes have been almost like movie promotions where the celebs of the movie came together to promote their film. That reminds us of another chat show. You got it right! Comedy Nights with Kapil. At least Kapil Sharma is able to make us laugh much more than Karan is able to. So is Karan trying to ape Kapil? Is Karan scared of Kapil's growing popularity? We wonder…
In KWK's previous seasons stars used to come and say that they were scared of the rapid fire round and they actually seemed afraid. But this season no one seems to bother about any of that, forget about being afraid. Many a times stars like Akshay Kumar and Farhan Akhtar were well prepared with counter questions of the rapid fire questions. This season, the rapid fire questions too seem to have lost their lustre with every guest almost coming prepared with all the right answers. Barring an Emraan Hashmi and Mahesh Bhatt it felt as if all stars were pre handed the set of questions to be asked in the rapid fire round.
All these points make us wonder whether the famous KWK has become just another chat show which can be hosted by any witty man. At least the funny men of television give you the guffaws and don't let you sit and chew your fingernails in disgust. We hope Karan pulls up his socks and starts getting some of these points right in the closing half of the season, and maybe then we might be able to see the old lethal Koffee host. What do you say peeps?