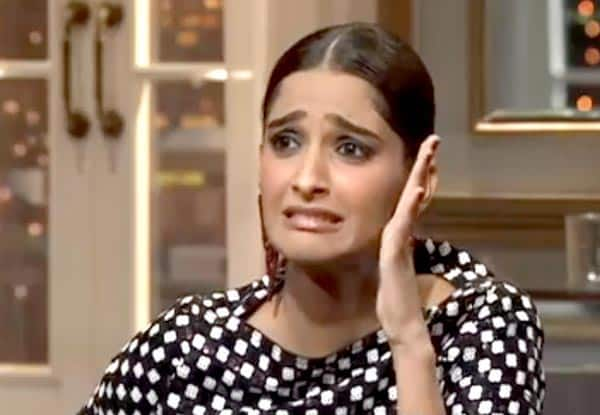 Here's a look at Sonam's blonde and dumb moments from the recent episode of Koffee with Karan 4
Sonam Kapoor's last appearance on Karan Johar's popular chat show, Koffee with Karan, along with Deepika Padukone created quite a stir…or should we say a storm? This season, KJo chose to invite Sonam along with her father Anil Kapoor to sip some steaming cups of coffee. And while we expected her to say some spicy things this time around as well, she disappointed us and how, Ms Kapoor's revelations were rather dumb than spicy.
After watching the entire episode, which was aired last night, one thing is pretty clear, Sonam Kapoor is living in her own fantasy balloon. May be Priyanka Chopra should burst her bubble just as she had given Deepika Padukone a reality check. Sonam actually believes that she is catering to both masses and classes with her movies. According to her if one is not good-looking, he/she is a good actor. Sonam thinks that she is considered as an icon at the age of 20. And here is the best one. Sonam also says that the reason she has survived in the industry is because of the critics…because she doesn't get bad reviews. We are sure all these statements must have cracked you up, because we were ROFLing after watching this fashionista on the show.
Like we said earlier, Sonam seems to be living in her fantasy bubble. Guess it's time to burst it, shall we? Time for some reality check, babes. According to Sonam, good looking people are not tagged as good actors. Oh dear, we guess she hasn't heard names like Kareena Kapoor, Priyanka Chopra and Kangana Ranaut, who have proved that they have the best of both worlds – talent and looks.
Sonam also revealed she is an icon, well, let's not get there. Because we just couldn't help but laugh at that one.Yes, she is a fashion icon, but she is not perfect and should we remind her that there are other beauties like Deepika Padukone who are as fashionable as her. But then the Kapoor girl seems that Dippy doesn't have a style statement of her own and that she tries to copy other when it comes to fashion. Looks like there is a cat fight brewing between these two ladies, which was obvious from Sonam's not so humble opinions on Ms Padukone.
And finally coming to her survival in the industry and bad reviews statement, wethinks that SK doesn't read any of her film reviews. From her debut Saawariya,  Players, Mausam, Thank You and even her latest release Bewakoofiyaan failed to impress critics.
Sonam was blondness personified on this show. And also what's with that fake and bad accent throughout the show? Anyway, watch the full episode of KWK 4 here and we are sure after watching it, you will agree with each and everything we have said here.