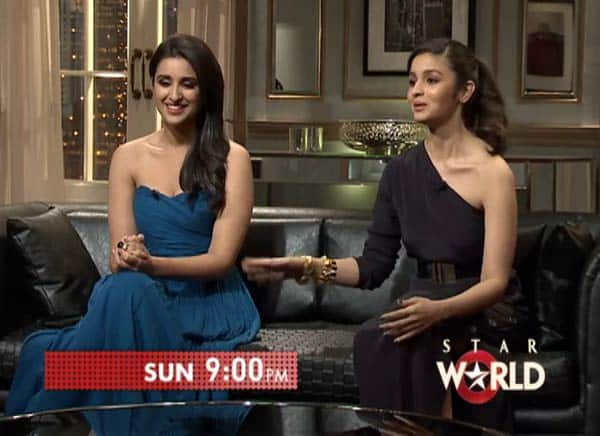 The promo of the most awaited episode of KJo's celebrity talk show is finally here
So our wait is about to get over as the most awaited episode of Karan Johar's popular chat show, Koffee with Karan 4 will hit the television screens this Sunday (April 6). Yes, two competing heroines – Alia Bhatt and Parineeti Chopra will be sipping some steaming cups of coffee on that controversial couch together. Yes, you read it right, together.
While this will be Alia's second appearance in the same season (last time she shared the couch with her Student Of The Year co-stars Varun Dhawan and Sidharth Malhotra), Parineeti on the other hand marks her debut on this coveted celebrity chit-chat show. And for those of you who have not followed Karan not-so-steaming episodes this season, it was Alia's snooty comment about Pari that got these two ladies together on the show.
The makers have released a teaser of this episode, which gives us a glimpse of Mr Johar's infamous rapid fire round. In the video, one can see Parineeti pledging, "Main jo bhi kahungi, hamper ke liye kahungi, hamper ke sivaye kuch bhi nahi sochungi." Well, we aren't surprised. After all, Karan's coffee hamper is totally drool worthy. Or as KJo says, "Winning the Koffee hamper is as important as winning a national award." So if Jr Ms Chopra ruffles a few feathers in the rapid fire she has issued her clarification right at the beginning, smart gal, hai na?
As the promo continues, KJo asks the Ishaqzaade actor, "How would you react if the senior actor made a pass at you?", to which Pari replies, "depends on who it was." And when the talented filmmaker suggested, "Saif Ali Khan," Parineeti instantly says, "yes to everything".
Then the Kuch Kuch Hota Hai director's radar soon shifts to his muse Alia. He asks the Bhatt gal, "So Alia, you have definitely a sense of possessiveness for Varun and Sidharth, so when these boys work with Parineeti, what does it make you feel?"
And Alia quite confidently in her trademark Kareena Kapoor Khan style quips, "I know they love me more than Parineeti." Ahem ahem. There are gonna be some explosions in this episode, we are sure.
But we aren't sure if these two competing B-town ladies will only shower hot blows at one another or will they also gossip about their contemporaries? Remember the famous Deepika Padukone-Sonam Kapoor episode from season 3 of KWK?
Anyway, watch the promo of the upcoming episode of Koffee with Karan 4 here and tell us if you too feel that Pari-Alia are just frenemies trying hard to fake friendship. Also don't miss their cold shoulder and obviously uncomfortable body language.