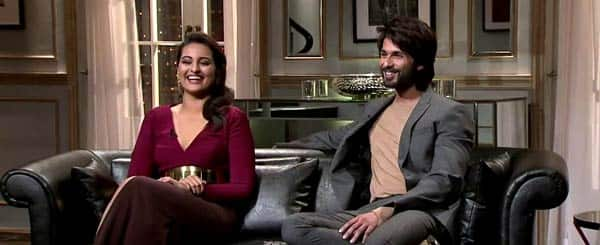 Sasha and Sona will sip some steaming cups of coffee on Koffee With Karan 4 this week
So this week, it's going to be Shahid Kapoor and Sonakshi Sinha on the fourth season of Karan Johar's hit chat show Koffee with Karan. And we must say, that the R…Rajkumar co-stars are in the mood for some gandi baat as they sit together on that controversial black couch.
Now, before you jump to any conclusions, let us make it clear that Sasha and Sona won't be doing any gandi baat with each other. In fact, Shahid will be seen hitting on host Karan Johar instead! You don't believe us? Well, the makers of the chit chat show have released a small promo from the upcoming episode featuring Shahid and Sonakshi, in which the Kaminey actor has confessed that he is desperate for KJo.
But this isn't the only high point of the promo. Karan, in his rapid fire round, asked Sonakshi as to what would she find in Ranbir Kapoor's bedroom and here's her quick reply, "a Kat". Now that is a smart answer, isn't it? But looks like Karan was not smart enough to catch Sona's answer.
Anyway, watch the promo here and tell us if you like it.
[flv]http://st1.bollywoodlife.com/wp-content/uploads/2014/01/Sonakshi-Shahid.flv[/flv]