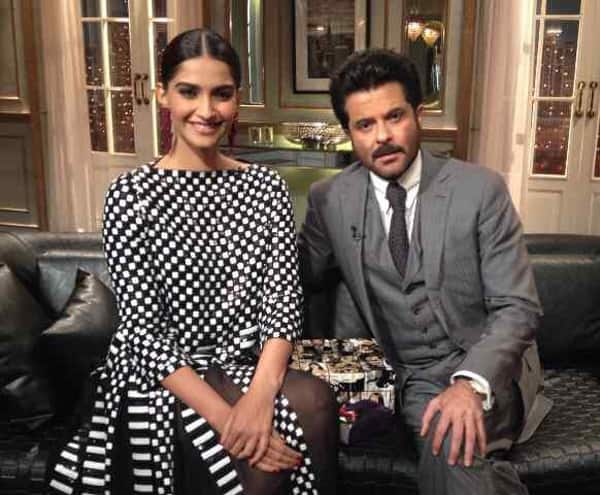 Here is the promo of the upcoming episode of Karan Johar's chit-chat show
After discussing Hindi movies and Indian critics with filmmakers Zoya Akhtar and Rohit Shetty last week, Karan Johar will be seen sipping some steaming cups of coffee with the father-daughter duo of Anil Kapoor and Sonam Kapoor as they appear on his popular celebrity chat show, Koffee with Karan (KWK) on coming Sunday (March 30).
The makers of the show have released a promo video from the upcoming episode, which will make you LOL. All thanks to Sonam's sheer dumbness. The video begins with Anil revealing that his beloved beti wants to enter politics, which completely shocks the nuts out of KJo. Given the fashionista image Sonam has carved for herself, we absolutely cannot imagine the Bewakoofiyaan actor doing netagiri. Yes, that's a different tale all together that if she ever plans to step into politics in near future, she would most certainly be the sexiest politico this country has ever seen, hai na? Sexy but dumb, which is proved as the video continues where we see Mr Johar in Koffee quiz round asking Sonam, "Who said 'An eye for an eye only makes the whole world blind'." And Sonam with full confidence says, "Robert De Niro", which leaves Karan all shocked at first, but bursts into laughter as he tells the Kapoor gal, "What? Mahatma Gandhi said this. How can you say Robert De Niro?" And looks like Sonam's father Anil was also amused by her beti's IQ level as he too couldn't stop giggling.
Watch the promo video of KWK here and tell us if you agree with us.