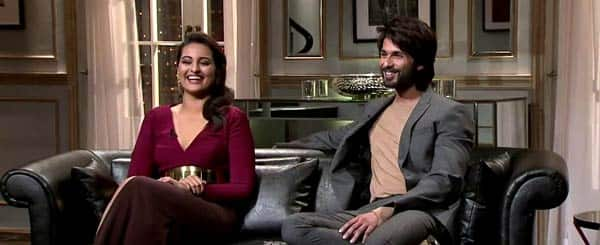 Apparently KJo wanted Sona to appear with someone else on his popular celebrity chat show
Sonakshi Sinha and Shahid Kapoor proved to be an entertaining duo on Karan Johar's popular chat show, Koffee With Karan 4 (KWK). The rumoured couple and R…Rajkumar co-stars took equal turns to take down their respective exes. But what if we say that Sasha wasn't suppose to appear with Sona on the chit-chat show?
Apparently, the Lootera actor refused to come on KWK if Shahid didn't accompany her. Interesting, isn't it? If rumours are to be belived, KJo wanted to pair Sona with someone else for his show. But Jr Shotgun wanted be on that black couch only with her rumoured beau and no-one else.
So something is definitely brewing between the two, no? To the extent that at a recent award show, Sonakshi chose to stay back till Shahid was done performing. "And even though his was the last gig, she patiently waited for him. Besides this, they have been stepping out together at several occasions and events," an eye-witness was quoted by a tabloid.
Anyway, it's good that the alleged lovebirds appeared together on KWK. Otherwise we would have surely missed out on some tagda dose of entertainment and controversial statements. What say BollywoodLifers?