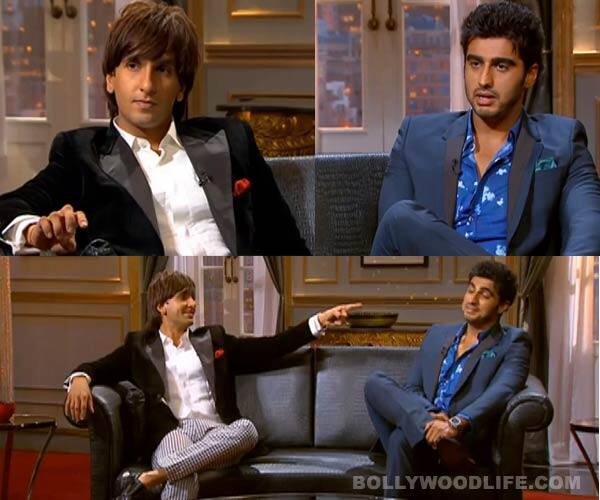 Looks like the three leading Khans of Bollywood are not iconic enough for someone. Read on to know more…
So this week, it's going to be Gunday co-stars Ranveer Singh and Arjun Kapoor on Karan Johar's hit chat show Koffee With Karan 4 and believe you us – it's going to be a laughter riot!
A teaser promo of the episode is out, and we can see the host going LOL after listening to Ranveer and Arjun's witty answers. Karan asks Ranveer, as to what would be his reaction when a male co-star tries to hit on him. Ranveer just points at Arjun and says, "Tell him, how I react when you hit on me." Everything was fine until Arjun opens his mouth and says, "He just takes his pants off." At this moment, KJo bursts out laughing, and along with him, we do too.
Then comes another question – who according to him is the most iconic Khan. While everyone expected him to take Shahrukh Khan, Aamir Khan or Salman Khan's name, the Lootera actor surprised us and took Kamaal R Khan's name, totally nailing it.
As we said, it's gonna be a laughter riot on Koffee With Karan 4 this week. You can have a look at the promo here and when you are done laughing, you can tell us your thoughts on it.
[flv]http://st1.bollywoodlife.com/wp-content/uploads/2013/12/Ranveer-Singh-Arjun-Kapoor-on-Koffee-With-Karan.flv[/flv]