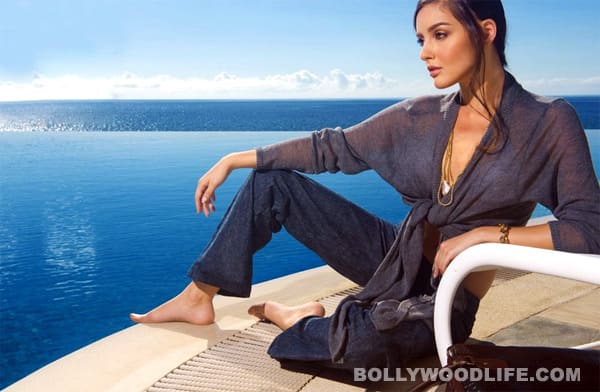 The gorgeous Yamla Pagla Deewana 2 beauty shares her incredible tale of landing a Bollywood movie and working with the Deols
That Kristina Akheeva, the Yamla Pagla Deewana 2 babe is gorgeous and desirable, is no secret really. With a porcelain complexion and features cut out from crystal, her beauty is classic. But go a little deeper and you find the soul of an adventurer and a dreamer, and a person who has made the most of life at an early age.
Born in the picturesque mountainous locales of Central Asia, in Tajikistan, Kristina has literally come a long way. And the sense of adventure that seems to be her natural trait, took her even further once she started modeling at the age of sixteen. However she quit that and chose to give her first love 'acting' a shot. And from the amazing conversation we had with the beauty, we can safely say that she is her to stay!
Do you feel that you bagged YPD2 because of your looks and the glamour quotient?
That wouldn't be entirely false considering that I was chosen for the film because of my Indian looks. But that aside, I'm not just some pretty face who thought let's give Bollywood a try on a whim. I have been into acting ever since I was a kid. I took part in school plays, and I have had my share of experience acting on stage. But yes, it's true that I made the transition from an actor to a model. I essentially worked all over the world before I came to India.
Tell us about that… how did you find yourself on Indian shores?
I was born in Tajikistan. Most people don't even know where it's located! But I moved from there to Australia when I was seven. When I was sixteen I was getting a few head shots for myself, because for auditions there you need one big headshot photo with all your details written behind it. So this photographer I went to told me that I should send in my pics and try out as a model. I was sixteen then, and I did. That's when modeling took off for me. Then later I worked with a modeling agency in Singapore for three months. After that I travelled quite a bit. Then after a modeling assignment in India I kind of stayed back for a year. I did tons of ads here, and that's when I got interested in Bollywood. I saw almost all the movies in my free time! Then I went back and decided that I didn't want to model anymore, but try my hand at acting instead. I was ready for the whole, work-in-a- coffee-shop-and-give-auditions routine, and struggle a bit. But then I came to India, and landed this project at the right time!
Being in a Bollywood movie and that too in a Deol production must have been a bit of a culture shock at first, given they are the quintessential 'Punjabi' family…
Well, to be honest they were very warm. And it wasn't like I was super awed at every point. I did live in India for a year, so I knew the culture and I knew what to expect. And honestly, the crew and everyone were just so supportive – be it food or be it anything else I required. They would include me in their conversations, and explain the things that I didn't understand. In fact, Sunny Deol would even ask me about a few shots, and it was so kind of him to make me feel that way because here he is such a senior actor. But it was so chilled out on sets.
Sunny is also known to be shy, and you have a romantic track with him in the movie. Was he just as shy while shooting?
No! He is a trained actor and he has been doing it for decades. What I noticed about actors is that they turn themselves on when they face the camera. The biggest superstars, they will be shy and reserved in their personal space, but when the camera comes on they just light up and give their best. So it was very professional that way. There were no awkward moments for him or me!
None for you? Come on, you must have stumbled a whole lot while saying the Hindi dialogue!
(Laughs) Yes, a few. Saying my lines was never a problem because I play this character of a Punjabi girl born and brought up in the UK. So that came naturally to me. What were tough were the songs! Because my lines I spoke slowly, given that that was how my character was supposed to say these lines. But the singing was really fast, and I fumbled quite a bit. The most I did was when I had to sing a Hindi rap song. And I got the lyrics just a few days before the shoot. I believe I had the most difficult time doing that. Thankfully that was left out in the edit. But yeah, other than that it was smooth sailing.
Well that and the fact that it was so cold when we were shooting in London. I mean, the guys would wear all jackets and stylish layered clothes, while the girls would be wearing a flowery summer dress when it was freezing outside! I don't know, but that's a Bollywood thing I guess, where guys dress up all macho and layered. So yea, after the shot I would run to the heater.
Tell us about the three Deols. How was it working with them?
Well, Bobby is like a very chilled out guy. He hangs out on his own, very cool to talk to, and very friendly. Sunny on the other hand is this very disciplined guy who wakes up early and goes to bed on time. He has this set pattern about how he shoots. But again, he is very protective and caring, and always ready to help. Actually that's all three of them! And Dharamji is just a very beautiful human being. I had the best time talking to him. He would tell me stories of the earlier days of Bollywood, and how it was shooting back then. And it's just so interesting to get that sort of knowledge from someone like him, who has been a part of the industry for so long. For me, someone who is an outsider, it really made me feel at home, and helped me connect with the industry.
Who do you look at as your competition in Bollywood, since there are a number of foreign beauties who have made a transition from modelling to Bollywood films… like Nargis Fakhri?
I know what you're saying but I prefer not to look at it that way. Because currently I am in such a happy and a positive space that I would rather focus on what I am doing, than start that whole competition thing. It's just too negative, and I believe in not thinking on those lines considering I am only one film old and have a lot to achieve.
Some Hindi movies you've loved?
Oh… I just saw Talaash a few days back, and I loved it. I loved Aamir Khan in it. He is my favourite actor. I also love Kareena Kapoor. I believe she is quite cool, and has this tremendous energy about her! I also love Vidya Balan. I saw Kahaani, and I believe she is a great actor in her own right.
What's next for you?
For now it's just the movie promotions. After that, I haven't thought much. But I do know that I want to continue acting. That's certain!