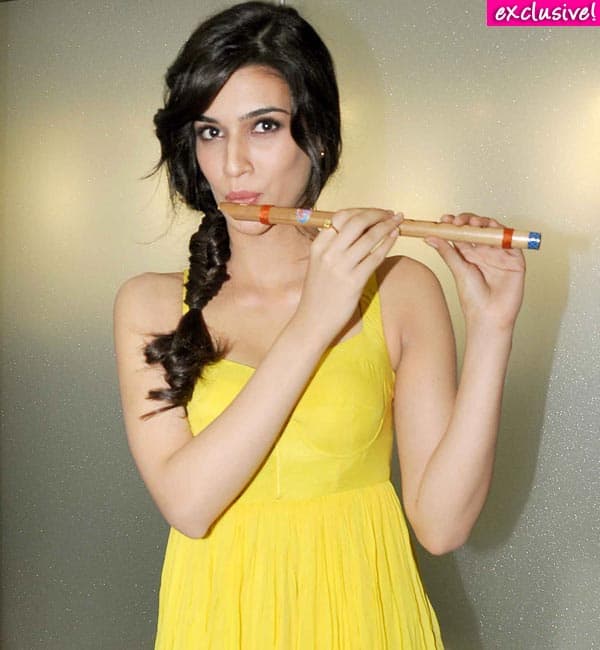 The South beauty who will make her Bollywood debut with Tiger Shroff in Heropanti confesses that acting was always a passion and also talks about the hard work that has been invested to achieve her dreams
She made her acting debut with the Telegu film 1: Nenokkadine opposite South superstar Mahesh Babu. Now this pretty actor is all set for her Hindi film debut Heropanti opposite Jacky Shroff's son. Before the film hits the theatre this Friday, Heropanti heroine Kriti Sanon gets chatty with Bollywoodlife. She tells us about her film aspirations, her rapport with co-star Tiger Shroff, her favourites in the filmi duniya and much more. Read on to find out…
So the big day is about to arrive and you're making your Bollywood debut with such a massive banner. How does that feel?
Its' not sinking in I am still trying to absorb everything that's coming along. Be it promotions, trailer launch or the people's reaction to it, I am slowly trying to absorb everything. I am still unable to feel the anxiety since we've been so busy with the promotions. It still hasn't sunk in that the big day is about to come.
You've had an illustrious academic background. Why did you choose acting over studies?
While I was doing my engineering, I decided to try my hand at modelling. So I started doing that and also did a few TV commercials. While I was shooting for the commercials, I really liked the whole feel of being on the sets and shooting. I began to enjoy and it didn't feel like work. So I told my parents about my acting plans. Though they were a little hesitant, they finally agreed on one condition that while I was chasing my dream, I would also prepare for MBA. I did that, I cleared my GMAT and scored well. However, my focus was always on acting so I worked towards it and so here I am.
Is Heropanti a remake of Parugu?
I won't say exactly a remake, though, key points of the story has been taken. However, Sabbir Khan has bought the rights of the film. A lot of characters including mine have been changed. The girl's character in Parugu is very shy and reserved and in Heropanti, the heroine is loud and bratty. So a lot of things have been changed.
Did you find any difference between the South films and the Hindi cinema, considering you've a done a Telugu film before?
No, at least for me I think there is no difference, except of the language. I used to focus a lot on the dialogues in Telegu because I didn't know the language. I had to mug it up and understand the meaning of each word. Whereas Hindi is my language, I am comfortable with it so I didn't have to learn the language; it came very naturally to me. So ya, the Hindi film was much easier.
Your co-star has grown in a filmi family, while you're an outsider. As an outsider, what do you feel is the nicest thing about the industry?
My producer, director and the whole crew has always been very supportive and have never treated me and Tiger differently. For them it has always been a launch of two actors. So I think that is the nicest thing. I have always been treated as an equal in the film.
If not this film, then which other released in the recent past would you have wished was your launch pad?
Well, I liked a lot of films and characters but I strongly believe whatever happens, happens for good. So I feel Dimpy as a character for me is the best launch, mostly because when in heard the script I instantly was in love with the character. So for me I would still say Heropanti is the best launch pad. Though I loved a lot of other films like Queen, Highway, Hasee Toh Phasee, but for me it has to be Heropanti.
Which female actor do you look up to and would want to follow their career graph?
Well I don't really look up to anyone person in particular. In today's time there are so many talented actors whether it's Parineeti Chopra, Vidya Balan, Deepika Padukone, Anushka Sharma or Alia Bhatt. All of them are very different and unique in their own way. Having said that I would want to have my own identity and not take any one person as a role model or do things according to how they have done. So I wouldn't want to follow any one person's footsteps, but would rather go with the flow.
Who is your all-time favourite actor?
Oh, my all-time favourite actor is Madhuri Dixit. I have grown up watching her. In fact, the first ever film that I saw in a theatre was Hum Aapke Hain Haun. As a kid I used to dance on her songs. She is so beautiful, has a wonderful smile and a very expressive face. She is someone I have always liked the most.
How are you dealing with all the love and adulation coming your way?
It's very exciting, especially for my parents. Every day they are searching in the papers, looking for anything written on me. So yea, it's really fun and exciting.
Is there any actor you've dreamt to romance on screen?
Oh, there are a lot of actors and not one. If you're talking about romancing, then it has to be Shahrukh Khan. There is no one else who romances like him.
Which directors are on your wish list?
Again a lot of them. I would want to work with Imtiaz Ali, Rajkumar Hirani, Vikas Bahl, Karan Johar and I will keep saying till you end it. So lots of them.
Tiger comes across as a shy person, while you look chirpier. So how was your rapport with him on the sets?
Well somewhere down the line it worked for us. Our choices are very different from each other. However, we are from the same age group and are equally new so somewhere we have that connect. We have had that friendly bonding from the very start. There wasn't even one moment when I felt awkward with him.
So what's next post Heropanti?
There is nothing that I have signed as of now. I am only concentrating on Heropanti. It's not giving me any time to think about anything else.