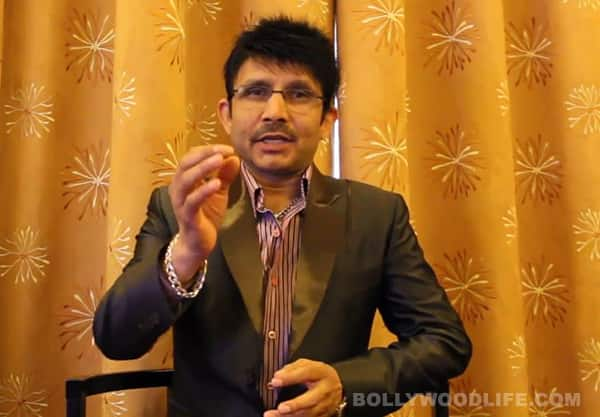 Disclaimer: All views expressed in this article strictly belong to KRK. If you experience exorbitant amount of rage after reading this article or watching the video, please direct it towards the correct person. We just wanted to make you laugh…
There isn't much to say about this obnoxious personality. Oops, sorry! Did we just call him a personality? Our apologies. Kamal Rashid Khan, who calls himself KRK fondly turned into a movie critic recently, and how could he have missed reviewing Dedh Ishqiya, hai na? 
Mr Expert Khan begins with talking about the basic plot of the movie, which he says has many layers and tends to get boring in parts, but nonetheless, the audience is kept engaged till the calimax (not climax, mind you).
Apparently, KRK is a big fan of Dedh Ishqiya's dialogues. No, you're getting it wrong if you think that the eloquent usage of Urdu or the mind blowing poetry is what must have impressed him. The dialogue that became his favourite was Huma Qureshi telling Arshad Warsi, Mujhe maaf karde yaar.. apke saath ek baar sex kya kar liye, apko toh pyaar hi ho gaya! Is anybody thinking of a sleazeball here? We are…
Now to the acting bit. Arshad Warsi has done a commendable job; Madhuri Dixit Nene didn't have much to do in the movie, she has done a mediocre job; Huma Quereshi has done a very good job – she's looking like a Muslim girl in the Muslim girl character (we know what you're thinking – what the heck did he just say?); Naseeruddin Shah has lost his charm as an actor. Oh we almost forgot, KRK says Vijay Raaj is the hero of the movie.
No, it doesn't end here. But we are kinda tired of dealing with his intelligence, it's too much for us. Watch the video and tell us what you think of him and then, when you're done laughing at him, tell us if you agree with his review or our review of Dedh Ishqiya.
[flv]http://st1.bollywoodlife.com/wp-content/uploads/2014/01/Dedh-Ishqiya.flv[/flv]