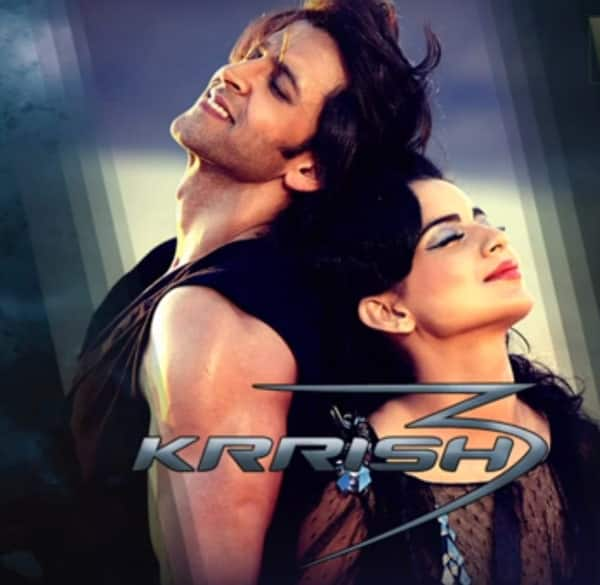 Music: Rajesh Roshan
Lyrics: Sameer Anjaan
Singers: Rajesh Roshan, Sonu Nigam, Alisha Chinoy, Shreya Ghoshal, Neeraj Shridhar, Mohit Chauhan, Zubeen Garg, Mamta Sharma, Monali Thakur, Bob
One of the most prolific composers of Hindi cinema, Rajesh Roshan has been creating gems since the mid-70s, holding on well to his own brand value. It's not every year that we hear Roshan saab's compositions. As per the family tradition, Rakesh Roshan's younger sibling helms the soundtrack this time too for Krrish 3.
With this one RR has turned over a new leaf – he's sung the movie title, though he's entrusted the song more to Mamta Sharma and Anirudh Bhola. Veteran lyricist Sameer Anjaan, as experienced as Rajesh, has written all the songs for the hugely anticipated superhero flick. Having composed for the country's first sci-fi superhero film Koi Mil Gaya, Roshan has worked hard to create a genre that appeals across the nation.
Roshan's repertoire this time consists of five originals and two remixes. It starts with the movie title track Krrish Krrish sung by Mamta Sharma, Anirudh Bhola and Rajesh himself. The instrumental part at the beginning reminds you of Dilwalo dil mera from Kaho Na Pyaar Hai. And as you listen on you realise the song has RR's trademark touch – a good dose of flute and drums. Unfortunately the lyrics – Jab jab gehra dhuaan chayega tab tab banke mashaal aayega… Krrish, Krrish (similar to the title track Dhoom dhoom from Dhoom) – meant to describe the superhero and all he has done for the betterment of his people are a letdown. It would be better if Roshan kept it instrumental.
Then comes the energetic and most popular song on the album – Raghupati Raghav. If you loved It's Magic from Koi Mil Gaya, chances are you will like Raghupati…, sung with his usual spunk by Neeraj Sridhar. As always, Sridhar is spirited and lively and makes this dance number catchy and likeable. The start of the foot-tapping song is in the zone of Kaisi paheli hai yeh from Parineeta. The remix version doesn't have much change, though Roshan and DJ Shiva have increased the tempo.
Dil tu hi bataa sung by Zubeen Garg (Ya Ali from Gangster) and Alisha Chinoy is a romantic number that may sound good, but is too slow and tests your patience. At the first instance, you feel like the male vocals are by Roshan's favourite Babul Supriyo, but a look at the music label reveals that it's Zubeen who has done a splendid job. Alisha is back with a bang – not because we are truly impressed with her this time, but because Roshan makes her sing three songs. You are my love is tailormade for Alisha's raspy voice. Joining her is Mohit Chauhan, who gets into Kunal Ganjawala mode for this sweet composition with lyrics that go Tere kadmo mein dil rakh du until I'm gonna die… We heard that Priyanka Chopra was supposed to sing this number, but Rajesh eventually settled for Alisha, the best option to PC, according to him. We wonder if You are my love can recreate the magic of Tinka tinka.
The last song God allah aur bhagwan seems like a prayer which starts with the Krrish theme. Sung by Sonu Nigam and Shreya Ghoshal, the composition is average. Though the arrangement is okay, the childish lyrics – God Allah aur Bhagwan ne banaya ek insaan… aaya zameen par leke woh uparwale ka farmaan – spoil the charm.
Despite being well packaged, Krrish 3 is still just another regular effort by Rajesh Roshan. Post Kaho Na Pyaar Hai, the gifted composer has been displaying a techno vibe, throwing a little of KNPH into everything. Mediocrity withstanding, Rakesh Roshan has a solid cast – Hrithik Roshan, Priyanka Chopra, Vivek Oberoi and Kangna Ranaut – and an interesting promotion campaign that might boost audio sales.
While the songs are likely to work as part of the movie, none of them hold the staying power of Rajesh Roshan's earlier work. As a huge fan of Roshan, I need to say that music lovers have high hopes of him and hopefully he is more appealing the next time around – maybe for Krrish 4!
Rating:
out of 5
Reviewed by Dhiren Trivedi
* Poor
** Average
*** Good
**** Very good
***** Excellent