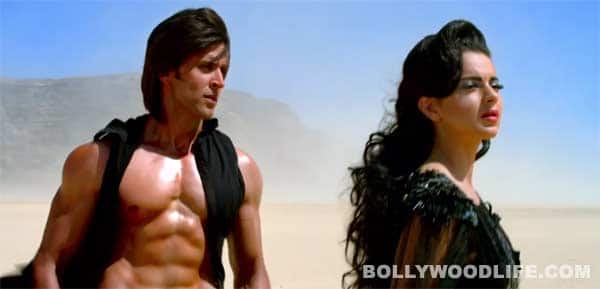 The cast and crew, including director Rakesh Roshan, choreographer Raju Khan and the actors had a tough time shooting the dream song in the exotic locales of Jordan
The romantic song Dil tu hi bataa from Rakesh Roshan's much-anticipated superhero flick Krrish 3 featuring Hrithik Roshan and Kangna Ranaut is visually appealing but not many know it was actually a task for the cast and crew to shoot the song at the stunning Jordan locale.
In the making of this lovey-dovey track, we see the Roshan trio – Hrithik, Rakesh and Rajesh heavily engrossed at the recording studio trying to compose the best tune. "Dil tu hi bataa is my favourite song in the film," says Hrithik adding, "Kangna looks fabulous in the song. It was very interesting to see the mutant emoting facets of love. Raju Khan has a knack of getting the most magical frames. So we were assured that this song will look absolutely fantastic."
The honey-eyed actor narrates an incident. "During the shooting of the song, there was a sandstorm, especially when I was doing my bare-chested shots. Though it used to last for barely couple of minutes, we used to feel as if it's going to last for eternity. We had to undergo several sandstorms. Somehow we managed to shoot the song." Kangna is quick to add, "Rakeshji made me look so beautiful. He gave me so many elaborated costumes and hairdos which were very beautiful."
Watch behind the scenes making and tell us if you find it as entertaining as we did!