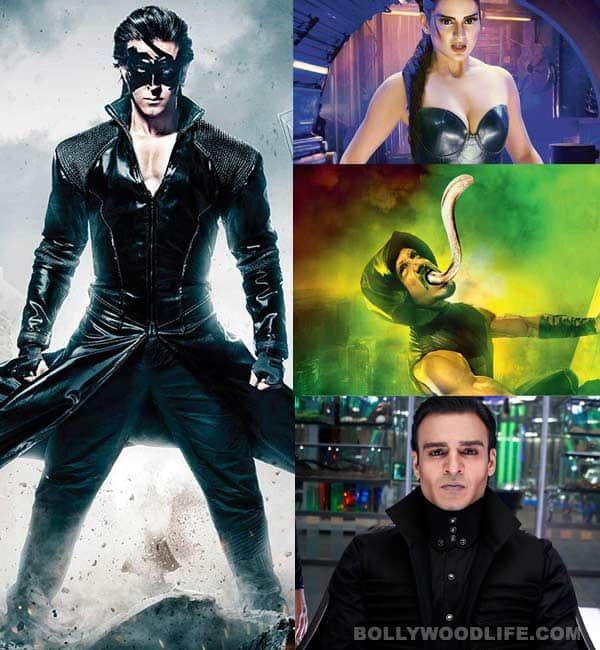 Hrithik Roshan is back in his superhero avatar, but this time the honey-eyed actor won't battle just the villain, but his army of mutants as well…
Koi Mil Gaya, Krrish and now Krrish 3 – director Rakesh Roshan is the only filmmaker who has been successful so far in exploring the sci-fi superhero genre in Bollywood. While Krrish 3 is yet to hit the big screen, from the trailers released we can certainly say that papa Roshan has taken a big leap from where he left Krrish. The third installment is no doubt much bigger and better coz of visual effects, not-so-conventional villains and a more powerful superhero. And then there are the baddies, male and female, all other-worldly and decidedly alien to the average Hindi movie-watching audience. We list the characters who will entertain you in Krrish 3 – some good, some bad and some, a wild mix of both…
Krrish: Needless to say, he is the superhero in the film. Hrithik Roshan as Krrish will take on deadly mutants this time around and will try to save the world from destruction. In the process, Krrish will unleash his untapped super-powers….
Kaal: If Krrish is the superhero, then Kaal is the super villain in Krrish 3. And for the first time Vivek Oberoi is playing an out and out baddie. While most actors would dread doing such a negative role, the Grand Masti actor instantly agreed when he was offered the part. In fact, when we caught up with Hrithik, he said nobody could have played Kaal better than Vivek. We hope the audience feels the same way after watching the film!
Kaya: Played by Kangna Ranaut, Kaya is also known as Chameleon girl. She can transform into any shape she wants, just like a chameleon changes its colour. Special action experts were flown in from China to teach Kangy her super-girl stunts. Now we can hardly wait to see her in action…right?
Priya: Priyanka Chopra is back as Priya in Krrish 3. While the singer-actor-model plays Hrithik's wife in the film, her character has a grey shade as well. While talking to us, Ms Chopra confessed that she is the reason that everyone fights someone or the other in the film. If that's the case, there must be more to her character than what we have seen in ten trailers so far!
Antman: Martial arts stuntman Sameer Ali Khan is one of the mutants in Krrish 3. The newbie is playing Antman in Rakesh Roshan's superhero flick and as far as action is concerned, we hear he has given a noteworthy performance. Something to watch out for, hai na?
Cheetahwoman : Nazia Shaikh is half-human, half-cheetah in Krrish 3 and hence her name, Cheetahwoman. Just like Cheetah, she is super fast and has sharp claws that can kill. It's impossible for humans catch up with her, she is so fast. There is nothing that her yellow eyes ever miss….
Rhinoman: Rhinoman is the amalgamation of human with rhinoceros. His lethal weapon is the deadly-sharp horn on his head. His body is heavy and he uses his humongous size to his advantage while fighting his enemies.
Frogman: His tongue is the sharpest weapon he has and Frogman uses it to kill. His green eyes indicate his notorious and wicked side.
Scorpionwoman: She is half-human, half-scorpion, armed with a pair of grasping claws. Scorpionwoman has a venomous sting at the end of her tail and is a ruthless killer.