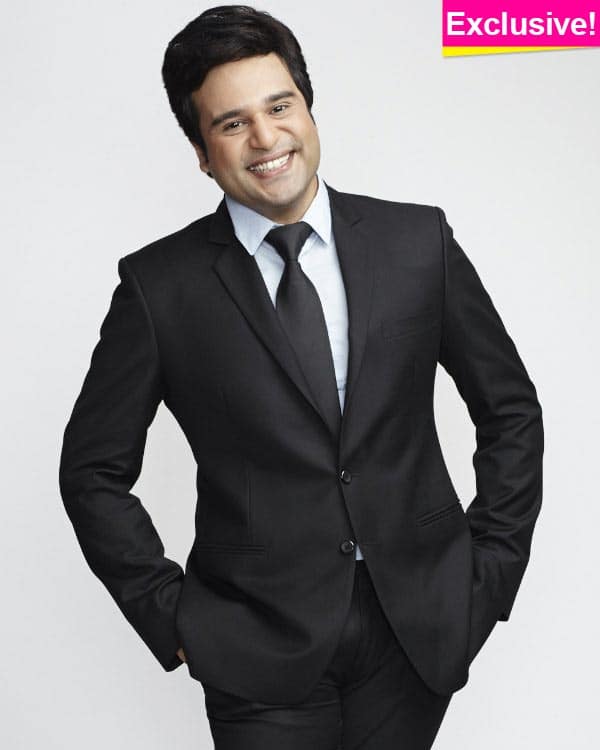 EXCLUSIVE:The actor-comedian-dancer talks about his new show, his equation with Anu Malik and Mona Singh, upcoming movie with Akshay Kumar and more…
Krushna Abhishek shows off his broad grin the moment he steps in front of the camera. In his excitement he doesn't even wait for us to ask questions and starts talking about the show and his role in it. With abundance of talent, we thought Krushna takes pride in being called an actor but he surprised us when he said that he is a dancer first and the rest just follows. Read excerpts from the exclusive interview.
How different will Krushna Abhishek be in Entertainment Ke Liye Kuch Bhi Karega (EKLKBK) from what he was on Comedy Circus?
When I do comedy on Comedy Circus, I am playing a character but in Entertainment Ke Liye Kuch Bhi Karega I am being myself. When I come on stage, Krushna comes on stage not a character, which will be different and fun. I am discovering myself in the process. In addition to that, the audience will get to see my equation with Anu Malik, Farah Khan and Mona Singh, which will add a lot of tadka to the show. I have a personal relationship with Anuji and Farah. I have known them since I was eight. So that chemistry will be seen onscreen and that will be a surprise element.
Have you worked with Mona Singh before?
We have done Jhalak Dikhhla Jaa together. She was hosting and I was a participant then. I have not worked with her as such, but I know her since years. I always thought she was normal and sane, but in reality she is crazy on a whole different tangent. I am enjoying hosting with Mona.
So what have you been doing after Comedy Circus went off air?
See Comedy Circus has gone for a revamp for two months, so I got busy with Entertainment Ke Liye Kuch Bhi Karega. Post which, I am doing a film called It's Entertainment with Akshay Kumar. We have been shooting for this film in Bangkok.
So will you promote It's Entertainment on EKLKBK?
Yes, why not! We have planned to invite Akshay on the show to promote the movie. In fact, Akshay and I have done a song in the film, so we will be performing on that too.
You are an actor, comedian, dancer – what attribute do you think describes you best?
I never thought in my life that I will do comedy, 'coz I am a dancer. My first show on television was Nach Baliye. So I never imagined my comedy shows would become such a hit. While I enjoy doing comedy, I do not like doing stand up. A lot of people ask me why I am not doing a show like Kapil Sharma. I do not want to do that 'coz he is the best at it and no one can beat him at that. I am a fan of Kapil. But as an entertainer, I dance and do ten different things to keep my audiences engaged and entertained and I love it.
So in what avatar does your fiancée, Kashmeera Shah like you the best?
Kashmeera likes it when I sweep the house or when I cook.
Wow, you to cook too?
Yes I love cooking.
Coming back to EKLKBK, What should we as viewers expect in this season of the show?
Anuji and I went mad looking at the talent on the show. The level of dancing, acrobats and the weird talent is totally commendable. There was a dude who ate a cell phone on the show. I have seen people eating bulbs, tube lights but a cell phone is something new. You will also enjoy watching Anuji and my chemistry. He will narrate his shayaris and I will throw comic punches at them. So don't miss the show.