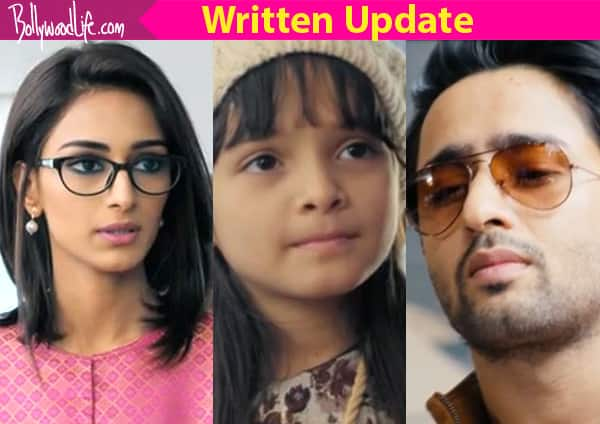 Ishwari (Supriya Pilgaonkar) asks Dev (Shaheer Sheikh) to choose between her and Sona (Erica Fernandes). Dev asks her to give this a rest. Jatin asks Sona about the flowers and she dumps them in the garbage bag. She then vents her frustration to Jatin. He then calms Sona down. He gets emotional and manages to her cheer her up. He indirectly makes her confess that she still loves Dev. Ishwari tries to justify why she lied to him as he asks her to leave him alone. Just then, he gets a call and he leaves. Golu tells Dev that Jatin is not Suhana's father and that she doesn't have a father.
Golu tells him about his conversation with Suhana and Dev recollects seeing Sona in school and her chances of getting pregnant. Meanwhile, Asha and Bejoy are talking Sourabh into seeing prospective brides. Suhana introduces Golu to Sona and she bonds with him. Sona leaves with Suhana and Dev sees her leave. He decides to find out how Suhana and Sona are related. Suhana tells Sona about her conversation with the drawing teacher and Sona promises her that if she ever wants to see her Dad, she will ensure that Suhana meets her. (ALSO READ: Kuch Rang Pyar Ke Aise Bhi 16 February 2017 Written Update of Full Episode: Sona tells Dev that Ishwari knew about her relationship with Jatin)
Dev follows their car. Suhana talks about Dev, referring to him as Golu's BigCha. Suhana sees Dev's bike nearby and tries to tell Sona about him but Dev leaves by then. Dev drops Golu home and follows Sona to her old house. Dev eavesdrop into their conversation as they are talking about Sourabh's wedding. Dev is wondering how Suhana knows everyone in the house. He is still confused as his phone starts ringing. Asha comes outside to check but doesn't find anything.
Just then, the ladkiwale come home to meet the family and Sourabh. Dev sees Sona and thinks about how beautiful she is. Suhana enters with Sourabh and introduces herself. Dev is eavesdropping and enjoying the show. Sourabh and Ronita fall for each other instantly. Dev calls Elena and says that Sourabh is finally getting married. He asks Elena to congratulate them and talk to them. He asks her to be with her family. Elena reminds him of her promise and he explains to her that things have changed in the last seven years.
He hangs up and tries to call Suhana from her room but stops when Jatin walks in. Suhana draws a picture of her fighting with Golu and Dev trying to stop them. She talks about Dev and he happily listens. Just then, she sees him outside and gets conscious.