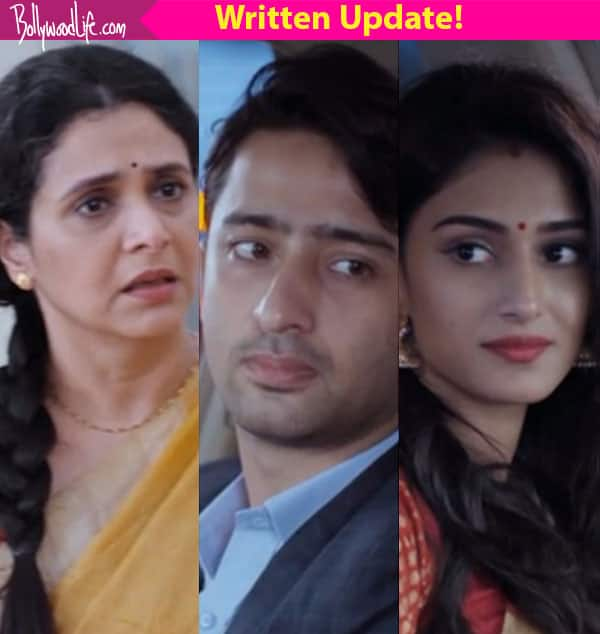 Sona (Erica Fernandes) is arranging files in her room as she picks the medical file. Dev (Shaheer Sheikh) enters shocked thinking she has found out Sona but turns out that she had just found some pictures of them together. He hugs her with relief. They make up and start flirting with each other. Elena's card doesn't work as she is trying to pay the bill at a restaurant when Vicky offers to  pay. Vicky apologises to her saying that he has changed now ever since he got a job. Elena lets him pay the bill and promises to return the money. He tips the waiter as soon as she leaves only to find out that she left her purse on the table itself.
Dev and Sona discuss their honeymoon plans and bicker about it for some time. They are just about to kiss each other when Sona makes an excuse, scares him and laughs. She reminds him that they have to go visit her parents for Dusshera. They swear to never fight with each other again. Dev notices that Sourabh is weirdly silent and asks if everything is okay. Sourabh replies saying that all is fine. He is amused to see so many snacks as Asha asks him to eat how much ever he can. Elena whispers to Sona about Vicky paying her restaurant bills. Radha enters the kitchen smelling all the good food. She tells Ishwari (Supriya Pilgaonkar) that Dev will probably eat at Sona's place. (ALSO READ: Kuch Rang Pyar Ke Aise Bhi: A guilt-stricken Sona decides to get out of Dev and Ishwari's life)
Ishwari refuses to believe her and says that Dev can never do this to her. She tells her that she hopes nothing changes. Dev and Sona reach home as Ishwari comes and asks if they are hungry. Sona is about to say that they ate but Dev stops her and says that he is hungry. He signals Sona to just go with it. Ishwari stuffs his plate with food as Sona looks on. Ishwari excitedly makes Dev and Sona eat a lot of food. At the Bose house, few men have gathered asking Sourabh for money. Bejoy and Asha overhear and come outside to yell at the goons who have come to ask for money.
Bejoy asks Sourabh why those guys are talking to him like that. Sourabh panics and tells them that he will explain later and leaves. Bejoy tells Asha that something is definitely wrong with Sourabh as she is worried about him. Dev asks Sona why she looks so worried when she asks him why he lied to Ishwari. Dev tells her that Ishwari almost drifted to sleep and says that he forgot to tell Ishwari about it. Sona says that he should have told her the truth. Dev gets angry and tells her that she will not understand it so soon.
Sona says that maybe she will understand in some time and that she just wants to blend in properly. Dev says that he cannot explain his relationship with Ishwari in just a week and leaves.