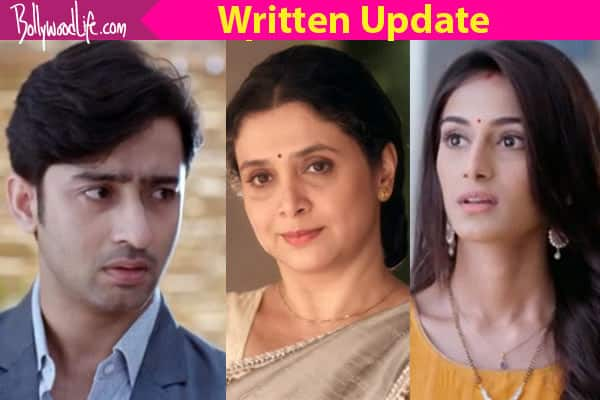 The episode begins with Dev (Shaheer Sheikh) feeling dizzy and Sona (Erica Fernandes) scolding him for not taking rest. She forces him to take rest and eventually tells him about Ishwari's (Supriya Pilgaonkar) wound. Dev rushes to the kitchen and scolds Ishwari for not taking care of herself. He drags her out of the kitchen and makes her sit on the couch in the living room. He tells her that Sona told him about her injury, much to her annoyance. Dev asks Sona to fry the kachoris instead and goes to the kitchen to help her make kachoris just like Ishwari. Bejoy comes home annoyed that people want him to be the secretary of the society.
Nikki gets excited when Sona gets the kachoris. Dev and Nikki praise the kachoris while Ishwari gets insecure. Sona offers the kachoris to Ishwari as Dev leaves. She taunts Sona for snatching away everything from her. She gets upset with Sona for not letting her make kachoris for Dev. Sona tries to pacify her but Ishwari refuses to understand. Radha interferes by saying that Sona cannot rule over everyone in the house but Sona tells her off. Ishwari taunts her by saying that Sona cannot cross limits to try to become a part of the family. Ishwari tells her that she cannot stop her from doing whatever she wants to do for Dev, even if she is his wife. (ALSO READ: Kuch Rang Pyar Ke Aise Bhi 30th November 2016 Written Update, Full episode: Dev's fever drops but Ishwari still resents Sona)
Sona meets one of her patients in a restaurant and they discuss about the patient's health. Just then, she sees Ayaan with another girl in the restaurant as they are having an intense conversation. Sona gets too distracted seeing Ayaan leave and rushes to meet him but he gets out immediately. Ishwari is limping and doing her household chores as Radha walks in talking about Sona. She asks why Radha is wearing a shoulder sling to which she says that she hurt her hand. Radha tells Ishwari that she overheard Dev and Sona decide that they will not have kids for a few years.
Ishwari gets upset that Dev never even thought of her before making the decision. Radha tells her that Ishwari will get Dev's complete attention only when he has his own kids as Sona will be busy with the kid then. Ishwari gets upset and decides to talk to Dev about it. At night, she gets some coffee for him and tells him that she wants to talk to him. They get interfered by Mamaji and Radha. She tries talking to him about it but Dev scolds her for not taking care of herself. (ALSO READ: KRPKAB's Erica Fernandes bags the Best Actress award at Asian Viewers Television Awards)
Mamaji, Radha and Ishwari start asking him when he is going to have babies. Ishwari gets shocked when Dev tells her that they will have to wait for five more years. Ishwari decides to talk to Sona about it as Dev recollects what the doctor had told him about Sona's chances of getting pregnant. Sona comes home and overhears Ria telling Nikki that she loves Ayaan. Sona gets worried looking at this and decides to do something about this. Sona asks Ria if Ayaan has shared any details about his life with her.
Sona probes further when Ria tells her that he shares everything with her and he has had no other woman in his life. Will Sona figure out who the woman in Ayaan's life is? Stay hooked with us to find out.
Dev (Shaheer Sheikh) and Sonakshi's (Erica Fernandes) first hug

All Kuch Rang Pyar Ke Aise Bhi followers will agree that Dev's proposal to Sonakshi was the most original and romantic proposal of small screen

The episode when Dev (Shaheer Sheikh) finally proposes Sonakshi (Erica Fernandes)

The little dance you do when your long-time crush finally proposes you.

The mirchi test : Dev (Shaheer Sheikh) eating raw chillies to prove his love to Sonakshi

When you do crazy stuff to convince your partner that you love her. This scene made many girls go aww..

Dev (Shaheer Sheikh) and Sonakshi's (Erica Fernandes) courtship period was the cutest

Dev and Sonakshi's sweet nok-jhonk makes them the cutest TV couple ever

Dev (Shaheer Sheikh) and Sonakshi's (Erica Fernandes) rain dance gave people some serious relationship goals

Dev and Sonakshi's rain dance was cute, romantic, crazy and emotional all at the same time.

Dev (Shaheer Sheikh) and Sonakshi's (Erica Fernandes) Bengali style wedding

You smile is ought to be like the one on their faces when you finally over come all hurdles and marry the love of your life

Sonakshi (Erica Fernandes) consoling Dev (Shaheer Sheikh)

When you have someone in your life to tell you that everything will be alright at the end

Dev and Sonakshi spending some quality time with each other

When Sonakshi and Dev went on a secret date after marriage

Dev embracing Sonakshi

This is a still from the much-awaited consummation scene that left the fans in a tizzy.