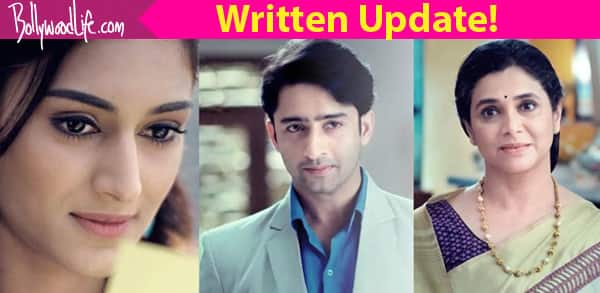 Sona and Dev are excited about their marriage and that finally their parents have agreed to get them married. Though there are new challenges that awaits the couple. Dev's (Shaheer Sheikh) lawyer tries to get him to sign a prenuptial agreement, in case, they get divorced in the future. Dev throws the prenup in the bin and yells at the lawyer. At Sona's (Erica Fernandes) house, Radha and Bejoy fight about marriage rituals and whether they should go for a Bengali wedding or a North Indian wedding. Bejoy is hell bent on following Bengali traditions during the marriage. Ishwari (Supriya Pilgaonkar) shuts them up. Mamaji tries to save the situation and calls for a compromise. Asha agrees on following respective traditions for rituals. Ishwari says that she wants them to be married peacefully after going through so much and is against dowry. Bejoy fumes and tells her that they are against dowry, too.
Sona asks Dev's opinion on prenups. Dev is confused and asks her what made her ask him about prenups. She tells him that she read about it in the newspaper and is completely against it. Dev assures her that their relationship has been through enough obstacles already and it won't happen again. At Ishwari Niwas, Radha tries to put words in Ishwari's brain again. Ishwari tells her that relationships matter more. Kichu informs Ishwari that the lawyer has come and tells he about prenup and why it's important. Ishwari is bewildered when she finds out about his conversation with Dev and assures him that she will get him to sign it. Dev calls Sona to ask how it went and she tells him that everything went smoothly. They talk about how happy and safe they are in life right now and hope that it continues. (ALSO READ: 5 reasons why Kuch Rang Pyar Ke Aise Bhi is truly a relatable one)
Bejoy tells Asha that he dislikes the Dixit family and doesn't trust them at all. Ishwari calls Bejoy at that moment saying that she wants to meet him. Sona rushes to Dev's cabin thinking he is sick but finds he was just fooling around. They start romancing again in his office. Ishwari is sitting with the prenuptials when Bejoy comes. She tells him about the prenuptial and he gets all worked up. He sees the prenuptial agreement and asks her to stop acting innocent. He picks up the agreement and leaves.
Dev and Sona are having pizza in the office when Dev gets a call from Ishwari. She asks if Bejoy called him and Dev asks why but she makes an excuse. Bejoy tells Asha everything and they are furious with Ishwari. He tells Asha what's in the prenup and Asha compels him to go tell Ishwari that Sona is independent. Mamaji, unaware of the prenuptial scene, applauds her for being so calm at Sona's place. Ishwari tells him that she is worried about her kids. Mamaji consoles her and leaves. Bejoy comes to Ishwari Niwas, tells her how disappointed he is with them and tells her that she will have to talk to Sona about getting the prenups signed.
Dev overhears everything and is shocked. He walks towards Ishwari and throws the prenuptial agreement. He tells Ishwari that his relationship with Sona is strong enough and doesn't need prenups. He justifies to Bejoy that he trusts Sona and apologises to Bejoy. He asks Bejoy to not tell Sona about it. Bejoy agrees and leaves. Dev tells Ishwari that she could have ruined everything with the prenup. He assures her that Sona will never leave him.
Bejoy is still furious with everything. Sona runs to open the door when she hears the car honking. Dev hugs her the moment he sees her. She asks him why he is so worried to which he tells her that he is scared of losing her. She calms him down. They promise each other that they will never leave each other. They talk about having kids and blush.
Ishwari sneaks into Dev's room and hides the prenups in Dev's work file. Mamaji comes looking for her when she tells him that there are some papers that have come from Dev's office. He asks her why she is so worried since morning and Ishwari tells him how cows are the best moms. Dev enters and Mamaji leaves. She tells Dev that Tina has sent some papers for him to sign. She asks him to sign the papers right away. He signs the prenups without reading them. She calls the lawyer and tells him that she got the papers signed.
How will Sona react when she finds out about the prenuptial? Stay hooked with us to find out.