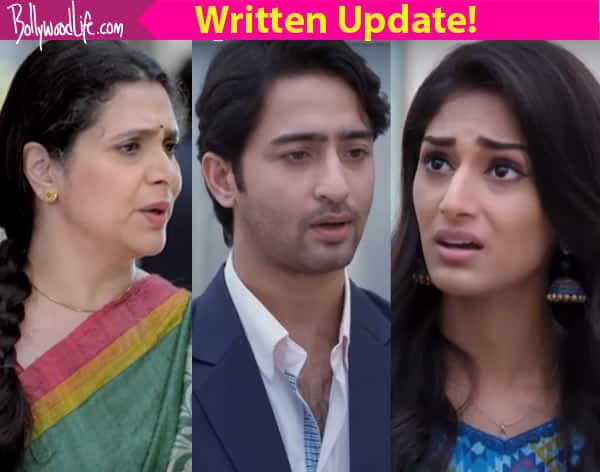 Ishwari goes all out and gets a beautiful lehenga made for Sona which Radha can't take her eyes off. Radha is shocked to find out that the lehenga is worth Rs. 15 lakhs. Ishwari (Supriya Pilgaonkar) tells her that the gold sequins on the lehenga are real. Mamaji reminds Ishwari about Bua ji's arrival and she starts panicking. They panic over preparing the house for Bua's arrival. Ishwari assures Radha that the food will be vegetarian at the wedding. She leaves to prepare for the Bua's arrival. Dev (Shaheer Sheikh) drops Sona (Erica Fernandes) home and she thanks him for calling her mom his mom. Dev says sweet things to Sona and they smile before she leaves. Sona goes to her room and suddenly gets a stomach ache.
Bejoy is cribbing about the wedding preparations and Asha calms him down. He is furious with Dev for taking up catering thinking there will only be veg food but Asha tells him that Dev considered his favourite dishes too. Meanwhile, Radha is looking for Dev and finds a list of food items for the wedding besides Dev's jacket. Dev's sisters are bickering about wedding preparations and food. Radha comes and reveals the food menu shocking everybody in the room. Ishwari is very sure that Bejoy has forced Dev for this and decides to talk to Sona's family. Elena finds Sona writhing in pain in her room and calls everybody. Asha tells Bejoy that she has a very high fever and they take her to the hospital. Dev overhears their conversation and asks what's happening when Ishwari tells him about the menu. (ALSO READ: A new entry in the show will change Ishwari's life forever – find out who!)
Dev admits that he was the one who came up with the menu and Ishwari was taken aback. The family explains to him that none of their relatives will attend the wedding and that it's inauspicious. Ishwari agrees to having non-veg food in the wedding. Bejoy, Asha and Dev are worried in the hospital, Asha tells him what happened at home. The doctor says that the test results will be back by evening and that he has given her necessary medicines for the moment.
Ishwari is worried about how everyone will react to the non-vegetarian menu and asks God to forgive her like that's the only sin she has committed. Dev compels the doctor to tell him what's wrong with Sona. The doctor tells him that Sona has an inhospitable uterus and can never conceive. Dev is shattered when the doctor says that she has only 7% chances of conceiving.
How will Dev break the news to the family? Stay hooked to find out more.