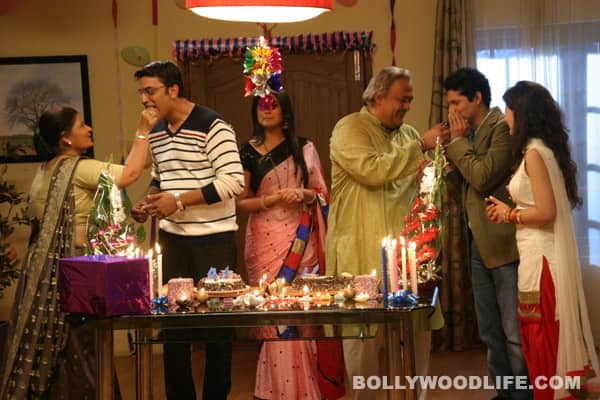 With all the tension brewing between him and Nidhi, will she wish him on his birthday?
We hear that a lot is going to happen in tonight's episode of Kuch Toh Log Kahenge. The lead pair Dr Ashutosh (Sharad Kelkar) and Dr Nidhi (Kritika Kamra) are having quite a few tense moments as they battle over whether to have a baby or not. Ashutosh wants a child, but Nidhi is not ready to be a mother yet. When Ashutosh's birthday falls during such a tense time, you know the writers are going to use it to give highly strung emotions a boost. That's exactly what's going to happen tonight.
It's Dr Ashutosh's birthday today. The tactiturn doc is quite surprised and hurt that his wife has not wished him through the entire day. Nidhi initially doesn't realise it's Ashutosh's birthday, and finds out when she comes across a file at the hospital. Instead of wishing Ashutosh then, she decides to curb the display of her enthusiasm and begins to plan a secret party. She doesn't even let on about her plans to Baba (Alok Nath) when he quizzes her. Naturally then, Ashutosh is irritated and grows petulant at her lack of concern. It gets worse when she tells him she wants to go to sleep earlier than usual. He goes to sleep, mentally grumbling about her. That's when Nidhi wakes up and decorates the entire drawing room. At the stroke of midnight, she wakes up Ashutosh, and takes him to the hall where all their friends are waiting to surprise him with a party! 'How sweet,' you say? Not really, since his birthday has already come to an end at midnight. It's a new day now, but luckily for Nidhi, her husband doesn't see it that way. He is touched by her thoughtfulness. We are sure that once he wakes up though, he'll see things differently. The fact that he has grown older by a year is only going to add to his urgency to be a father. That will increase the tension between them.
Hmmm… KTLK is growing too predictable. We would love to see ourselves be proved wrong, for once. Won't you prefer to see Ashutosh and Nidhi having a happy life instead of constantly fighting?