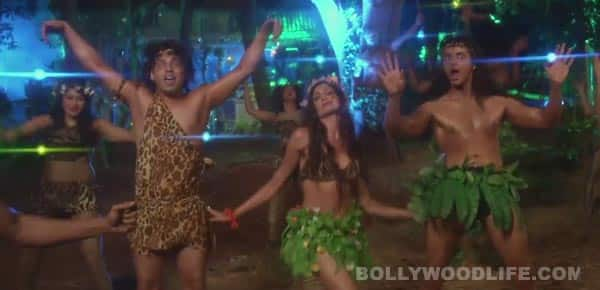 Balaji Telefilm's latest presentation seemed decent in its trailers but will the perceptions change after seeing this song? Read on to find out…
The makers of Kuku Mathur Ki Jhand Ho Gayi are out with the latest song from the film, Tarzan. Anu Malik has been going gaga over the song as he felt that he was doing something new and innovative. He was also very happy that he was working with newcomers who had a lot of talent and potential, but this song doesn't justify any logic or reason.
The song can win the award for the cheesiest song ever. The song takes a dig at the classic Tarzan comic book character and amalgamates it pathetically with another classic, the Mohammad Rafi-Shammi Kapoor hit Yaahoo from the 1961 film Junglee. The song has been composed by Parichay and sung by Anu Malik and Anmol Malik. The song has been featured on Siddharth Gupta, Simran Kaur Mundi, Pallavi Batra and others. The movie has been produced by Ekta Kapoor's Balaji Telefilms and Bhushan Kumar's T-Series have brought out the music for the film.
When we had seen the movie trailers, the film seemed to be a decent underdog but watching this song makes us feel pukish. The picturisation of the song seems to be that of a dream sequence, but even dreams have better symmetry than this song. Starting with a 'bottoms up' dialogue, this song moves on to do anything and everything at all.
Wethinks the song is a visual stinker even if it is a dream sequence. If you are a lover of chest-shaven men dancing in tiger skin outfits and women in two-piece sewn out of leaves, this song will completely ruin your fantasy!