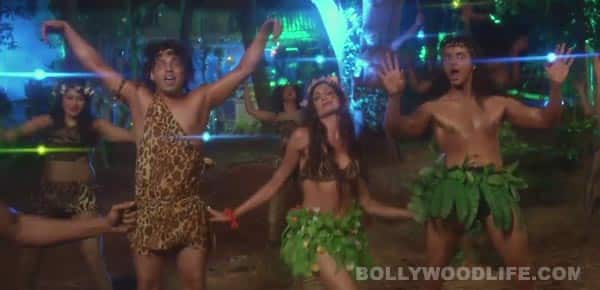 This is Anu Malik's first song with his daughter Anmol and it is damn funny to watch him make the Tarzan call
Balaji Telefilms have come up with the making video of the Tarzan song from their latest film Kuku Mathur Ki Jhand Ho Gayi. The video shows what went behind making this cheesy video. Anu Malik who has been talking everywhere about this song was approached by Balaji only for singing the song and not for any music composition, which is his forte.
Now Anu was a bit taken aback at first but he was happy also at the fact that the composer Parichay thought that no one in the film industry could do the Tarzan call better than Anu Malik. Also this song gave him an opportunity to sing with his daughter, Anmol Malik for the first time. Watching Anu Malik shreik out as Tarzan leaves you in guffaws.
The actors Siddharth Gupta, Simran Kaur Mundi and Ashish Juneja also had a ball of a time shooting the video. Firstly, it had that full Chahe koi mujhe junglee kahe feeling which they pulled off pretty well and secondly, there were the quirky and cheesy lyrics which made shooting the song even funnier.
There is a lot more in the making video. So BollywoodLifers, go ahead and have a look at the making of the Tarzan song and let us know your thoughts.