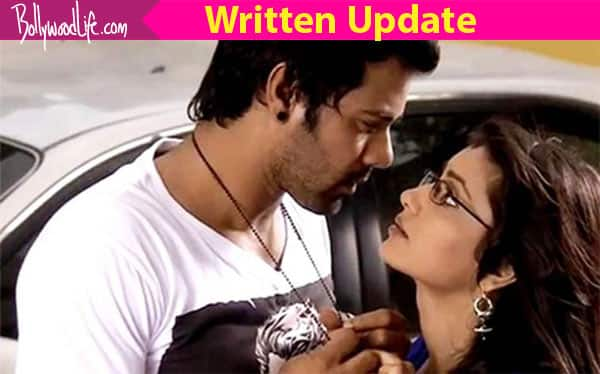 Purab tells Abhi (Shabir Ahluwalia) the difference between his bond with Tanu and with Pragya. Abhi tells him that Purab is just confusing him when Purab screams and tells him that he loves Pragya and not Tanu. He asks Abhi to shut his eyes and go back to the cold storage moments. Abhi obliges and realises what he feels for her. Purab asks him to stick to his feelings and stay with Pragya forever. He also tells Abhi how lucky he is to fall in love with a girl like Pragya. Sarla is happy to see Pragya (Sriti Jha) but gets worried to see her to weak.
Sarla goes to get some juice for Pragya and Beeji asks Pragya what happened at the party. Pragya gets lost thinking about Abhi as Beeji asks her to plan something for him on Valentine's Day. Beeji tells her that she will take care of Sarla and asks her to change and leave fast. Abhi asks Purab why Pragya lied to him to which Purab says that she is also not accepting her feelings for him. Abhi then asks that if Pragya loves him, why didn't she tell him? Purab says that it could be because Abhi is engaged to Tanu and Abhi got her engaged to Purab. (ALSO READ: Kumkum Bhagya 16 February 2017 Written Update of Full Episode: Purab confesses to Abhi that he was never dating Pragya)
Purab reminds Abhi that it is Valentine's Day today and he must confess his feelings to her as soon as possible. Aaliya also gives Tanu tips to attract Abhi towards her so much that he doesn't even think of Pragya. She tells her that Pragya is not at home right now and this is the best chance she has. Abhi goes to a market to buy a gift for Pragya. Of all the things, he chooses a pink teddy bear for her with some chocolates. The shopkeeper also gives Abhi magnetic rings that will always ensure they are together.
On his way, Abhi stops to see people asking each other out. He buys two bouquet from a street boy. Daasi books a parlour appointment for herself and promotes Zee Rishtey Awards. Abhi goes to Pragya's place with the gifts and Beeji answers the door. She asks him what he is hiding behind his back and he rushes inside. He goes to her bedroom to find it empty. He figures that she is in the bathroom and decides to decorate the room with the gifts.
Pragya comes out of the bathroom shocked and scared to see Abhi. He tells her that he has to say something important and she asks him to come near him. Abhi thinks that she will probably confess her feelings first but she just picks something from his hair.