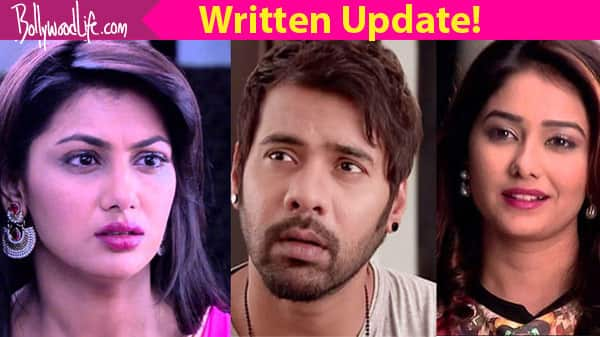 Abhi (Shabir Ahluwalia) talks Daadi into leaving for home right after burning the Raavan. Aaliya makes an excuse and leaves to talk to the assassin. He tells her that Abhi kept blocking Pragya so he couldn't shoot Pragya (Sriti Jha). He asks Aaliya to keep Abhi away from Pragya and if anyone else dies with her, it won't be his responsibility and leaves. Sarla comes looking for Pragya and Abhi. They duck when Abhi's bhabhi and uncle are talking about the security. Mitali complaints to him about Raj and they discuss about it for some time. Mitali sees Sarla hiding under the dupatta and decides to find out who they are. She asks them to show their invitation card when she gets called by her father-in-law.
Daadi blames Tanu for Abhi's misfortune and forbids her from going anywhere near Abhi. Tanu blames Pragya for ruining Abhi's life. Tanu threatens Daadi that she will destroy their lives if they stop Abhi from marrying her. Pragya passes a sarcastic comment and Abhi enters asking everyone to join the ceremony of burning Raavan. Sarla bumps into Purab who tells them that they shouldn't have come without calling him. Purab asks Sarla if they saw anything inside but Sarla denies seeing anything. Purab asks if they had a plan in mind to enter the party and demands an explanation. He asks if they came to check if Pragya was inside and asks them if they don't trust Pragya. Sarla tells him that she was worried about Pragya and thought she might be here. (ALSO READ: Kumkum Bhagya: Aaliya to get Pragya KILLED?)
Purab takes them to another safe place to explain everything and sees the assassin plant a bomb. The guy runs away the minute he sees Purab. The assassin hits Purab on the head to stop him from ruining his plan. Mitali follows Raj asking him take a selfie with him. Raj refuses to take a picture with her despite her many requests. He reminds her of the past and tells her that he will never be able to forgive her. He leaves as she stands there and cries.
The assassin has planted a bomb inside a bouquet of flowers that Aaliya forces her to take outside. Tanu holds Abhi's arm as he asks her to leave his arm since she Daadi is right there in front of them. Pragya calls Sarla and talks to her after seeing so many missed calls. Sarla tells her that she was just worried and requests her to try to leave as early as possible.
Aaliya gets a call from the assassin about his plan of killing Pragya. Aaliya takes the bouquet as Abhi asks her where she is taking the bouquet. Aaliya tells him that she will ask Pragya to keep the bouquet in the car. Pragya refuses to go as Abhi asks her to go in front of Aaliya.
Will Pragya take the bouquet outside and die or will Abhi save her? Stay hooked with BollywoodLife to find out.