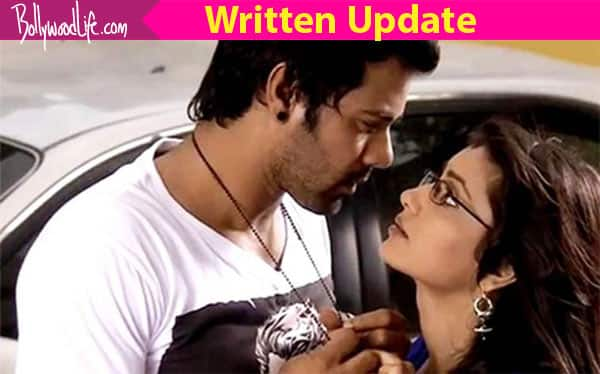 Aaliya snatches the mic from the emcee of the party while Nikhil bumps into Pragya (Sriti Jha), who is furious to see him. She lashes out at him as he keeps taunting her that she will never do anything. He leans closer so the pictures look controversial, as per his plan with Aaliya and Tanu. He drops a hint about what's going to happen tonight and holds her to threaten her. Just then, Aaliya makes an announcement wishing Bunty and Babli for their birthday. She then announces Abhi (Shabir Ahluwalia) and Tanu's sangeet and moves on to announcing Pragya's pregnancy. Before she says anything, Mitali stops her and tells her that she wants her to play the special video for Bunty and Babli.
Mitali and Aaliya bicker as she asks her to play the special video for Bunty and Babli first. But instead, Sarla's secret recording of her conversation with the doctor starts playing. Aaliya asks the emcee to stop the video but Abhi and Daadi force them to continue the video. Everyone is shocked to find out that Pragya is not pregnant. Abhi scolds Pragya for not telling him the truth earlier and they start bickering. Daadi interferes and hugs Pragya. Everybody starts praising her and Abhi wonders who tried to malign Pragya's reputation. He asks Pragya if she has doubts on anyone, which scares Aaliya and Tanu. Sarla decides to tell Abhi the truth but remembers what Daadi had told her about Abhi and his health. (ALSO READ: Kumkum Bhagya 30th November 2016 Written Update, Full Episode: Daadi overhears Aaliya and Tanu's plans to defame Pragya)
Abhi applauds Sarla for sneakily shooting the video to tell everyone the truth. He tells her that he is wondering wo would want to ruin Pragya's reputation and he swears that he will find whoever did this to Pragya. He, then, apologises to Pragya for not believing her and promises her that he will find out whoever did this to her. Pragya thanks Sarla and hugs her as they share an emotional moment. Daasi lightens the mood by saying that they should be partying now.
Sarla reveals that the idea to record the conversation with the doctor was Beeji's. Daadi asked Sarla why she didn't say anything earlier when Sarla tells her that Mitali had interrupted them before or she would have told her earlier. Meanwhile, Nikhil and Tanu taunt Aaliya and crib about their plan failing. Aaliya shuts them up and blames it on them. Aaliya and Nikhil start fighting with each other. What turn will Abhi and Pragya's love story take now? Stay hooked with us to find out.