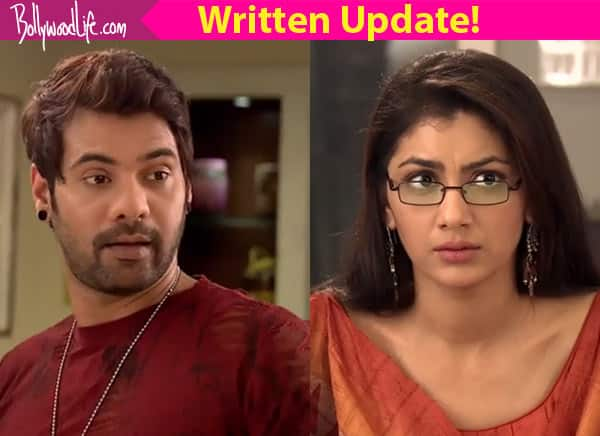 Beeji and Sarla tell Purab that Abhi is helping Pragya. Purab scolds Abhi (Shabbir Ahluwalia) that why didn't he tell him that he is helping Pragya (Sriti Jha). Tanu gets surprised when Aaliya tells her that she has to meet Abhi.
As Pragya tries to escape, Abhi stops him and asks her why is she running away. Pragya says she was running because of Dadi. Abhi asks what. She says nothing. He asks where was she going. She tells her that she didn't like the office. She tells her that it's a construction company and she would have been more happy if it she would have got job in a music company as she is interested in Music. Abhi gets irritated. Aaliya calls and asks what is he doing. She tells her that she wants him to meet Tanu, her model friend. Abhi tells how can he go in her party uninvited. She convinces her. He agrees. She asks if she is happy now. Tanu thinks what if he doesn't come this time also. Aaliya gets angry and asks her to get ready.
Pragya reminds him that she wants to work in a music company. He gets angry and asks her to leave. Pragya comes back home and sees Sarla requesting her land lord to come later. She feels guilty that because of her happiness she is troubling her mother.
Tanu gets hyper thinking Abhi is coming. Aaliya asks her to pretend as if she is surprised. He praises Abhi and Aaliya starts praising her. Abhi comes. They get surprised to see him. Tanu asks him to join them. Tanu and Aaliya tell him that Tanu's likes and dislikes are very similar to his.
Pragya gets worried thinking about her job. She calls Abhi. He scolds Aaliya that why didn't she pay his instalment. Tanu makes him understand that there is a lot of pressure on Aaliya and he shouldn't have scolded her like this. He apologises and says Tanu is right. Aaliya says no its her fault.
He receives Pragya's call. She asks him to look for a job for her. He agrees. Abhi bumps into a film's producer. He asks Abhi about his wife. Abhi, Tanu and Aaliya get shocked. Abhi looks at Aaliya.
Kumkum Bhagya full episode 21st September 2016 written update